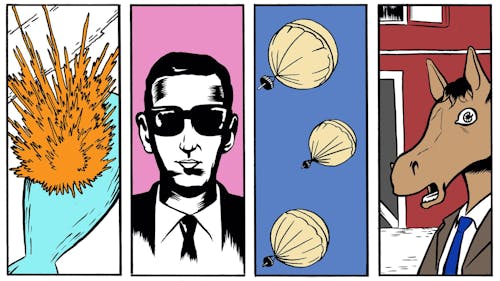 Acclaimed PDX composers with new song and film cycle based on PNW legends
Wonderly's True And Tall Tales of the Pacific North Weird
Bizarre Star String Quartet
Polaris Hall
_
GENERAL ADMISSION & FULLY SEATED
DOORS 7PM / SHOW 8PM
$15 ADV / $15 DOS
THIS EVENT IS 21+
VALID U.S. ID OR PASSPORT REQUIRED FOR ENTRY
________________________________________________________________________
Wonderly opens the door to their film-composing world to birth a batch of new songs, plus phase one of a cycle of short films they've been working on. Best-known for the theme to the New York Times' The Daily Theme, Dear Sugar Theme and film music, the duo also pens irresistible narrative songs filled with strange production twists, harmonies, and stories worthy of film.
With their new song and film cycle True & Tall Tales of the Pacific NorthWeird, Jim Brunberg and Ben Landsverk focus on their passion for odd stories from the region and collaborate with multiple disciplines, including authors, live-action filmmakers, animators, native storytellers and artists.
See the Oregon city of Bayocean fall into the sea! Feel the D.B. Cooper story from the viewpoint of a flight attendant! Understand the Balloon Bombs of WWII! Meet mythical creatures of time immemorial, as described by Celilo Elders! Yup, it's all over the map—the map of the Pacific NorthWeird.
Bizarre Star Strings open and play along.
Wonderly
Wonderly is pan-idiomatic music for film, records, podcasts, and radio shows, made by Portlanders Jim Brunberg and Ben Landsverk.
Their scoring credits include New York Times' The Daily (podcast); feature films At the Video Store (2019, dir. James Westby), Last Ferry (2018, dir. Jaki Bradley), Luz (2019, dir. Jon Garcia); and television series Tending Nature (PBS, 2019) and Bojack Horseman (2019). Other composition clients include WBUR's Dear Sugar Radio (w/ Cheryl Strayed and Steve Almond), The Aspen Institute, The Heavyweight (Gimlet), Live Wire Radio (PRI), Kia, Honda, and Budweiser.
Wonderly has been featured by The New York Times and on the critically-acclaimed music podcast Song Exploder. In 2019, they were voted "Best Theme-Song Smiths" in Willamette Week's yearly "Best Of Portland" issue.
Before forming Wonderly, Jim and Ben performed and recorded with artists such as Smokey Robinson, Kristin Hersh, Mark Orton, Jack Casady, Van Dyke Parks, Holcombe Waller, Storm Large, Alela Diane, Pink Martini, Ashleigh Flynn, Liz Vice, Matt Sheehy and John Wesley Harding.
Wonderly composes, arranges, performs and records music for any production. Their music elevates and intensifies the emotional center of any moment.
Bizarre Star String Quartet