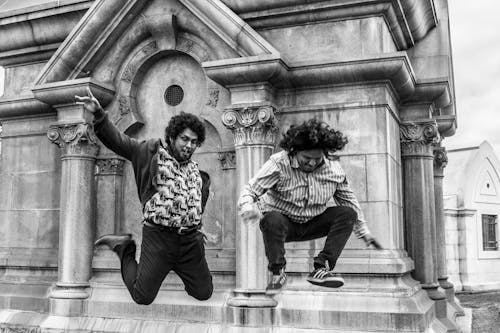 LA-based cinematic psych group with a penchant for mixing cumbia and punk
Tropa Magica
Dreckig, The Social Stomach
Mississippi Studios
Dreckig, The Social Stomach
MOSTLY STANDING / LIMITED BALCONY SEATING
DOORS 8PM / SHOW 9PM
$10 ADV / $12 DOS
THIS EVENT IS 21+
VALID U.S. ID OR PASSPORT REQUIRED FOR ENTRY
________________________________________________________________________
Tropa Magica
OFFICIAL WEBSIT / FACEBOOK / BANDCAMP
Pacheco Brothers, David and Rene, began their prolific music careers as Thee Commons; underdogs in the East L.A. music scene. Inspired by the Roots of Chicha compilations and the psych rock sounds coming out of Southern California they embraced both worlds with open arms. Unable to properly play "cumbia" rhythms they quickly learned from their peers in Boyle Heights and gave their best interpretation of the genre. High-spirited and determined they worked on a formula that would become their signature "Psychedelic Cumbia Punk" sound. A sound, not latino enough for the Mexicans nor surf enough for the psych-punks. This paradoxical approach, gregarious attitude, and live wire shows landed them slots on West Coast festival favorites, namely Coachella, Desert Daze, and Tropicalia. LA Weekly made it clear: "If Thee Commons aren't the best live band in Los Angeles, they're damn near the top."
However, after 3 LP's and a collection of EP's and singles, the brothers Pacheco decided to work on a different live and studio sound. Seeking a new sound they were inspired by the likes of Django Reinhardt, Joan Sebastian, Edith Piaf, Meridian Brothers and obscure soundtracks by Nino Rota. Yet, rather than start from scratch the brothers expanded on their "psychedelic cumbia punk" sound and reshaped it with a cinematic, orchestrated and carnivalesque twist. With the support of their friends and family they moved forward with the idea to rebrand and start anew. Focusing on their song craft, they began to experiment with different instrumentations and working with a myriad of studio musicians. Maturing as songwriters the brothers are now faced with the challenge of presenting their studio recordings onto a live stage. All the meanwhile, they are also endlessly working on converting new and previous Thee Commons fan to join the Tropa Magica caravan.
Dreckig
What started as drum lessons over ten years ago between longtime partners Shana Lindbeck & Papi Fimbres, they never thought their musical careers would culminate to this point of being a two piece dance/club cumbia infused/kraut band. Being in Orquestra Pacifico Tropical together since its inception, these two have definitely honed in their sound & musical prowess with their new band, Dreckig.
The Social Stomach
The Social Stomach formed 2016 by percussionist/electronic sound artist TJ Thompson (Galaxy Research, Electro-Kraken, Two Crows Fighting, Pregunta) and vocalist/poet Diana Oropeza, the duo explores the unique intersection of rhythm and the human voice.