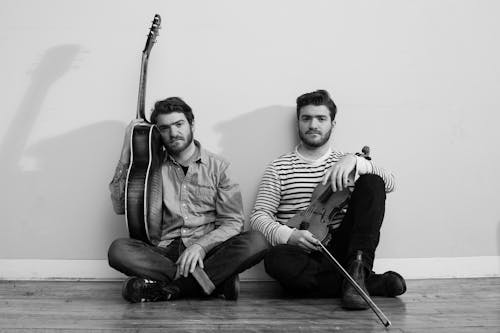 The Brother Brothers
Nick Jaina
Mississippi Studios
MOSTLY STANDING / LIMITED BALCONY SEATING
DOORS 7PM / SHOW 8PM
$12 ADV / $15 DOS
THIS EVENT IS 21+
VALID U.S. ID OR PASSPORT REQUIRED FOR ENTRY
The Brother Brothers
The Brother Brothers carry the folk tradition for a new generation. Identical twins David and Adam Moss honor contemporary aches with the nostalgic tenderness of another time on their debut full-length album, SOME PEOPLE I KNOW, out October 19, 2018 on Compass Records. Their stunning songcraft blends masterfully gentle guitar, cello and five-string fiddle with the sublime sort of two-part harmonies only brothers can carry. Their palpably fraternal stage presence and wonderfully familiar heart have earned repute among a modern folk scene; The Brother Brothers have recently opened for Big Thief, Lake Street Dive, Shakey Graves and more.
The album's title, SOME PEOPLE I KNOW, refers to the personal nature of these songs. As David explains, "I think every song on the album is about a person or a character, and in a way, it's a reflection of ourselves." For example, "Mary Ann," written by David, is an encouraging ode to a friend with depression. "Banjo Song," written by Adam, conveys a conversation with someone who gives up playing an instrument after a hurtful breakup. Though he's usually on fiddle, Adam plays banjo on the track; throughout the album, David plays guitar and cello.
Recorded at Mark Ettinger's Lethe Lounge in New York City with producer Robin Macmillan and engineer Jefferson Hamer, The Brother Brothers capably capture a modern snapshot of their surroundings. Yet, SOME PEOPLE I KNOW retains a timeless feel – something that the brothers were aiming for.
"I just want people to listen to it once and want to listen to it again," David says of the album. "And every time they listen to it, I want them to find something new and in some way relate it to themselves. Whether they're listening to it today or in 40 years, I hope it will make them feel just the same."
Nick Jaina
Nick Jaina has been a beloved figure in the Portland indie music scene for the past fifteen years. His new album Black Rainbow explores the depths of empathy for vampires and redwood trees with stark and melodic electric guitar arrangements. Nick has written feature film soundtracks and co-founded a ballet company in New York City. His 2015 memoir, Get It While You Can, was a finalist for the Oregon Book Award. His shows are a unique mixture of storytelling and music, like Radiolab meets Radiohead.