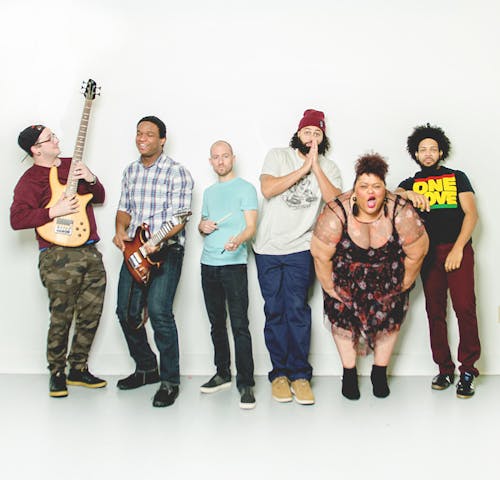 Endlessly eclectic, soulful and exciting PDX hip-hop/rock/R&B collective
Speaker Minds
Rich Hunter, MadgesdiqCEG
Mississippi Studios
_
MOSTLY STANDING / LIMITED BALCONY SEATING
DOORS 7PM / SHOW 8PM
$5 ADV / $5 DOS
THIS EVENT IS 21+
VALID U.S. ID OR PASSPORT REQUIRED FOR ENTRY
________________________________________________________________________
Speaker Minds
Speaker Minds' high energy and charismatic performance make for a memorable time for both themselves and spectators. With an intelligible emcee who enthusiastically expresses his love for hip-hop and community, an unapologetic and seasoned soul singer, and a band that has blended their diverse backgrounds to form a unique sound, there is never a dull moment!
Even while laying low for the previous year to transition new musicians into the group, Speaker Minds is creeping on a come up! This diverse band has been consistently blazing microphones and stages throughout the Northwest for half a decade, solidifying themselves as a highly sought after, crowd rockin' hip-hop band. Their lively and light-hearted performance has built a reputation for having even the sleepiest of crowds on their feet not long after their set has begun. Their collective dynamics and band member individuality presents a performance that is both a feel good time and inspirational.
Speaker Minds has appeared on a myriad of stages and at numerous events; The Festival of Positivity, Alberta Street Fair, Wild Goose West(Corvallis), Umoja Festival (Seattle), EcoPalooza, Fire in the Canyon, Seattle Hempfest, and PO-HOP 12, Speaker Minds has showed up and showed out! While the band could be considered still in their career infancy, they've already toured through several states including Oregon, California, Nevada, Idaho, Montana and Utah. They've had the privilege of playing shows with Hip Hop legends that include KRS-One, The Pharcyde, Del the Funky Homosapien, Gift of Gab, Dead Prez, Murs, Freeway and Jake One, The Coup, Black Milk, Masta Ace, and Wordsworth. In Portland, a city known for its indisputably talented local music scene with mega stars, Speaker Minds has graced the stage with solidified local music royalty including Cool Nutz, The Chicharones, Farnell Newton, Doo Doo Funk All-Stars, Hanif, and many more.
Rich Hunter
For over a decade, the Portland-born and -raised songwriter has been writing, producing, and performing music as Risky Star. He released a handful of R&B-influenced hip-hop albums with breezy production, catchy hooks, and a raspy, laidback flow. But he decided to change directions on his latest record, Third Eye Inspiration, and drop the Risky Star moniker in favor of his real name.
On earlier releases, Hunter routinely alternated between singing hooks and rhyming over a beat, but on Third Eye Inspiration he wanted to focus on his talents as a singer and songwriter. Over nine tracks of contemporary R&B and neo-soul, Hunter touches on themes of intimacy, compassion and the vulnerability that comes with maturity, love, and doubt. This is grown folks' music.
MadgesdiqCEG
Madgesdiq is a High Vibes Artist who blends Hip-Hop, Reggae, Funk and Soul into a "Universal Experience of Sound" that moves your body, stimulates your mind and satisfies your soul at the same time...