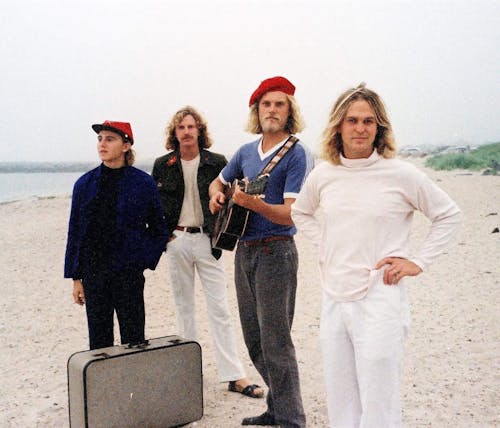 Lovably free-spirited throwback psychedelic Aussie combo
SOLD OUT: The Babe Rainbow at Polaris Hall
Tomorrows Tulips
Polaris Hall
Tomorrows Tulips
DOORS 7PM / SHOW 8PM
$13 ADV / $15 DOS
THIS EVENT IS 21+
VALID U.S. ID OR PASSPORT REQUIRED FOR ENTRY
________________________________________________________________________
The Babe Rainbow
From the land of grass without mirrors...came the Babe Rainbow. Sun-kissed pop stars from Australia AKA Jack Cool Breeze Crowther & Angus Darling. Who first appeared in the summer of 2014 in a bookstore just outside the coastal surf town Rainbow Bay. The thinking folks Plantasia, Folk/Disco, music to listen to when you make love. Mind flowers.
One day in the dreamtime the Babe Rainbow (serpent) came out of the ground, refreshed from slumber it travelled south to beach paradise and once Aquarian love march volcanic cosmo rinzg Byron Bay, where the band recorded their first singles Love Forever and 1964, now joined by Elliot O'Reilly on space-bass.
Now at this time, a relatively undiscovered psycho-jazz-seven-headed-dragon now household name 'King Gizzard and the Lizard Wizard', caught a vibe (the Babe Rainbow vibe) and immediately signed them to their self run label Flightless Records, headed by drummer Eric Moore.
May 2014, the Babes release their next single Secret Enchanted Broccoli Forest. The first of their breakthrough singles at national radio broadcaster triple j in Sydney, Australia. The song led them to a sold out tour all across Australia and New Zealand.
The video to accompany Secret Enchanted Broccoli Forest was shot by New Zealand director and new-found chum; Samuel Kristofski. Since starting a long relationship with 16mm technicolour dreamboat Kristofski, who directed a further 6 music videos since and has filmed the band through New Zealand, Europe, Australia, Hawaii and Japan for a feature length surf movie to be titled Rare Bird, due for its world premier in Tokyo this summer.
November 2014, single Planet Junior followed by Ash May Dr Love Wisdom in March 2015, to dress the flute salad of the much loved vinyl EP The Babe Rainbow Makes Love Forever that sold out immediately on pre-sale in its original pink pressing.
The love-buzz around that EP release lead to the band signing with booking agents in the USA and UK and a tour was announced for the end of 2015 that included opening for Costa Mesa panthers The Growlers across the USA, performing CMJ Seminar in New York, turning on headline dates through London, Los Angeles and New York, key festivals in London Mirrors and Mono, and sold out headline shows through the UK and Paris. It was then the band met Parisian pop doves La Femme and mutual friend pianist/beat-maker Luca Feliz who would return to Australia with them indefinitely.
In 2016 the band was invited to open on the Australian tour for big-kitty-Mac Demarco in January. They also performed at Australia's largest music festival Splendour in the Grass in July. Babe Rainbow travelled again to New Zealand and driving coast to coast island to island filming with Kristofski and finalising the compositions of their debut album. Once returning home headed straight into the studio with Stu Mackenzie the acclaimed frontman and producer of King Gizzard and the Lizard Wizard sitting at the controls.
The bands continued output and cultural highs caught the attention of superstar US record producer, artist and now label owner Brain Burton aka Danger Mouse. His own artist projects include Gnarls Barkley and Broken Bells. As a record producer he has worked with U2, Adele, Gorillaz, Norah Jones and many other very successful artists. Danger Mouse was now taking the experience of being an artist and producer and applying that to building a great artist driven record label called 30th Century Records. They signed The Babe Rainbow in March 2017, the Year of the Monkey (Disco).
The first single release in the set up to the debut album was Peace Blossum Boogie. In Australia it went straight into high rotation again on national broadcaster triple j. PBB was the first single released worldwide. A tour of the US opening for California's Allah-Lahs coincided. The expanding and shapeshifting band took to a newer line up adding Mojo Miles Myjavec to the group. Rushing Angus Darling to the front line on vocals and boogaloo. What followed was a sold out national tour, adding additional dates and selling those out too in advance. In the UK the band has received first radio spins in BBC Radio 6, as well as Virgin, X and Beats.
Their self titled debut album was released worldwide on September 1st. Singles followed for Johnny Says Stay Cool and Monkey Disco The band toured the Northern Hemisphere with their first headline tour of the north 2018 then brings us back to Australia with the weaving rainbow charming audiences at the touring Laneway Festival alongside Anderson Paak and War on Drugs. No sooner had the tour ended and the band quickly retreated with producer Wayne Connolly to the homey hills of Byron Bay to record album number 2 Double Rainbow. Thanks to the open heart of Music Farm studio, the new album has been laid to the tape machine. Double Rainbow is the sophomore album by the Babe Rainbow and it is in store and online now.
Tomorrows Tulips
Squished between Los Angeles and San Diego, Tomorrows Tulips give birth to a sound that is culled from equal parts pop experience and esoteric interests. A comfortable wave from a van window, paying homage to the DIY aesthetics of undergrounds past. Internet whispers mumble "Pavement at the beach," "lackadaisical affair," loser rock and bummer pop. Whether it's worshipping alien lanes or getting called Kurt Cobabies, Brent from Further said "Alex and Ford are keeping your underground slightly outta tune rock safe." Tomorrows Tulips initially formed as a refuge from Alex Knost's then band Japanese Motors (Vice Records) in 2010. Soon after bedroom recordings blossomed, visual artist Thomas Campbell released Tomorrows Tulips' debut album "Eternally Teenage" on his then label Galaxia Records. The sophomore album "Experimental Jelly" was released in 2013 on Burger Records, and exhibited a "more diverse" sound than its predecessor due largely to the addition of Ford Archbold on bass guitar and accompanying vocals. "Experimental Jelly" was recorded by Jamie Dutcher (HOLY SHIT, Sam Flax) whom the group met through mutual shows and tours. Tomorrows Tulips' 3rd LP "WHEN" showcases the group's evolution through a blend of pop sensibilities with post punk, noise rock and DIY recording techniques—endeavors that demonstrate the band's interest in experimentation and impromptu deconstruction. "WHEN" also features current PIXIES bass player Paz Lenchantin on distorted violin and feedback on several tracks.