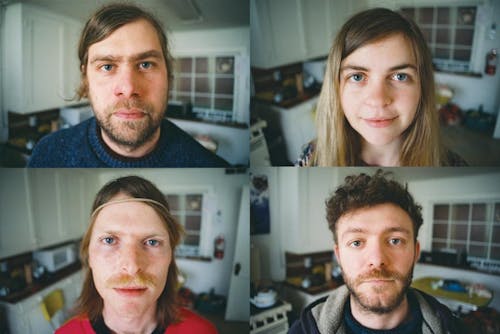 Lake
Sam Coomes
The Ghost Ease, Choking Kind
Mississippi Studios
DOORS 7PM / SHOW 8PM
$15 ADV / $18 DOS
THIS EVENT IS 21+
VALID U.S. ID OR PASSPORT REQUIRED FOR ENTRY
Dear ticket-buyers,
Last week, Portland music icon Janet Weiss was involved in a serious (but thankfully not life- or career-threatening) car accident. Our hearts go out to her, and we're hoping for a speedy recovery. Because of this, Quasi is unable to play the benefit show at Mississippi Studios next Monday, August 26. But here's the good news: we've decided to keep this important fundraiser intact. Quasi's Sam Coomes will play a short headlining solo set, and the other three acts (LAKE, The Ghost Ease, Choking Kind) will all stay on the bill as planned. We hope you'll still join us for what remains an absolutely incredible show, and we remind you that 100% of the proceeds from this show are going to immigrant rights and relief organizations. Those seeking refunds can find them at the point of purchase.
Thank you,
—Mississippi Studios
Lake
LAKE originated in Olympia, WA back in the summer of 2006. Eli, Lindsay, and Ashley played a show for Eli's birthday party, which could be considered the first show. When LAKE first stumbled upon their bandname, the members were Lindsay Schief, Ashley Eriksson, Kenny Tarantino, and Eli Moore. Over the next couple years, Kenny left the band and Adam Oelsner, Andrew Dorsett, and Markly Morrison joined.
The first album, "Lake", was recorded and produced by Karl Blau in Anacortes, WA, at the Department of Safety. This album features temporary member, Micah Davis-Wheeler, on harmonica plus vocalizations and other instruments.
The next album was recorded at two different houses where band members were living in Olympia: the Puget House, and at Calliope, where Lindsay was living at the time. Many recordings feature members of the band "Typhoon" from Portland, OR. The LAKE "cassette" was released on tape only, for the first year, and then Funkytonk Records offered to put the album out on vinyl with two added tracks from the same sessions that hadn't made it onto the tape release.
That fall, LAKE toured for the first time opening up for Adrian Orange, and playing as his back-up band, a.k.a. "Her Band", on that tour.
Many of the songs recorded for the "cassette" were intended to be recorded with Tucker Martine in Seattle, but were postponed due to his move to Portland. As soon as he was ready, the recording process began, and LAKE and Martine continued to record on and off for the next two years. This is a very special record that has yet to be released.
While this album with Tucker was underway, LAKE decided to record another album at home (on Whidbey Island, in Olympia, and at a friend's house in Portland.) This album is called Oh, the Places We'll Go. The title is a nod to Dr. Suess and his book, Oh, the Places You'll Go.
LAKE toured with their album, Oh, the Places, in Europe, and while on tour, found out that local Olympia record label, K records, wanted to put out the album. This is why there are two different versions of this release: LAKE's original self-release, and then the K records release. Calvin Johnson, Karl Blau, and Ben Hargett helped record one or all of these albums.
K records has been a home to LAKE and their album releases ever since. After Oh, the Places, came Let's Build A Roof and now Giving & Receiving.
LAKE recorded two albums in 2012. The first one, the World Is Real, was recorded at the K records Dub Narcotic Studio with engineering assistance from Ben Hargett. The other album, Circular Doorway, was engineered by Nic Wilbur and produced by Karl Blau at the Unknown in Anacortes. Circular Doorway is being self-released by LAKE under the record label name, Water Island. The World is Real will be coming out on K records in the end of summer 2013.
Sam Coomes
Known primarily as one-half of the Portland, Oregon-based indie rock unit Quasi -- drummer and ex-wife Janet Weiss (Sleater-Kinney) completes the duo -- Sam Coomes is a prolific multi-instrumentalist and songwriter who has been musically active since the 1980s. Born in 1964 in Sherman, Texas, Coomes grew up in Southern California. His first band, the ramshackle art-rockers Donner Party, formed in 1983 and saw Coomes taking on guitar, violin, and banjo duties.
They issued a pair of LPs before disbanding in 1989. The following year saw Coomes, who had since relocated to Portland, form Motorgoat with then-wife Weiss.
The project yielded a pair of cassettes and a 7" before ceasing operations and morphing into Quasi in 1993. Employing a bluesy, easy rock vibe that has led some to describe the duo as the indie Fleetwood Mac -- they had divorced prior to the band's inception -- Quasi began releasing material shortly after forming, and since 2013's Mole City, have issued nine critically acclaimed full-length LPs.
In 1994, Coombes was also playing bass in the grunge/alt-rock unit Heatmiser, which was co-led by Elliott Smith. Coombes has recorded and performed with a bevy of regional artists, including Built to Spill, Jandek, Pink Mountain, and Elliott Smith, just to name a few, and has provided scores for multiple films from underground filmmaker Vanessa Renwick. In 2016, Coomes released his first solo album, the wild-eyed, carnival sideshow-esque Bugger Me.
~ James Christopher Monger, Rovi
The Ghost Ease
The Ghost Ease is a Portland rock band that revels within the warm folds of a sort of soft savagery, pin-pricking holes into the fabric of the astral veil.
Created and directed by Jem Murciano, the band is known and loved for producing raw, hypnotic opuses by way of heavy guitars, frenzied drums and lilting vocal timbres.