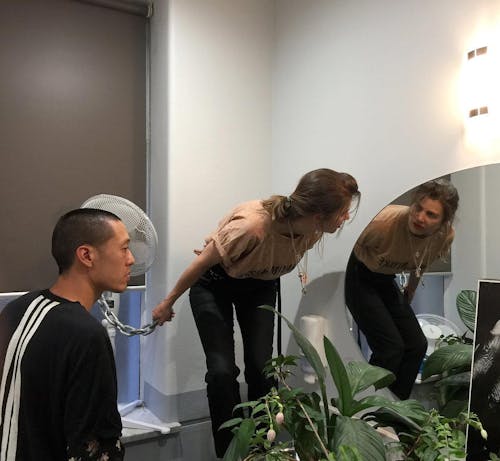 R.I.P. CITY Halloween Party with Aussie shape-shifters, LA rockers and more
SOLD OUT: HTRK
Soft Kill, Choir Boy
Mississippi Studios
Soft Kill & Choir Boy & Physical Wash
MOSTLY STANDING / LIMITED BALCONY SEATING
DOORS 8PM / SHOW 9PM
$20 ADV / $25 DOS
THIS EVENT IS 21+
VALID U.S. ID OR PASSPORT REQUIRED FOR ENTRY
________________________________________________________________________
HTRK
HTRK (formerly Hate Rock Trio) is an Australian band formed in 2003.
HTRK's music is not a quick-fix for restless, impatient minds; it needs to absorbed, contemplated and revisited. Listen to one of their records and youll find yourself slipping deep into their sound world, where the cavernous reverberations of dub techno are mixed with frosted post-punk motifs and the gravelly imperfections of industrial, reimagined in the setting of a dingy basement.
Their music is layered with enough subtle cultural reference points to attract critical dissection, raw enough to appeal to beer-swilling live crowds, and visceral enough to make sense throbbing out of a club soundsystem. Throw together the core influences of HTRK and you'll find David Lynch's unsettling surrealism next to Bill Henson's industrial landscapes, with Mika Vainio's minimal compositions alongside the malfunctioning synth-pop of Suicide. Its a potent concoction.
Formed in 2003 as the duo of Nigel Yang and Sean Stewart in Melbourne's north-western suburbs, the band soon welcomed vocalist Jonnine Standish into the fold, before self-releasing their debut EP, Nostalgia, in 2005 (re-released by Fire Records in 2007). From the off their sound was raw and visceral, with distorted guitar pedals caking Standish's vocals in sonic grit. The band swapped Melbourne for Berlin in 2006, arriving in the German capital unsigned. There they remained for a year, rehearsing in the next room to Einsturzende Neubauten, hungrily soaking up the city's revolutionary musical heritage that can be traced from cabaret through to the birth of krautrock, and Tresor and Berghain.
Jonnine and Nigel moved to London in 2007 Sean adopted the city as a part- time home along with Berlin and soon the band began to develop a reputation for incendiary live shows. They performed a memorable set at Corsica Studios in 2008, and appeared at the legendary Optimo club night in Glasgow back when it was a weekly Sunday night affair, perhaps the ultimate seal of approval in underground musical esoterica (Optimo's JD Twitch recalls the gig being rapturously received).
The band followed up Nostalgia with 2009s Marry Me Tonight, an LP co-produced by Rowland S. Howard, founding member of The Birthday Party and a towering figure in the Australian music scene. Marry Me Tonight was in many respects a neo-pop opus, with the bands homespun sound now developed into something more spacious and immersive; tracks like Disco, which sounded like a club anthem anaesthetised and played at 33rpm, and the narcotic, shamanistic rhythms of HA cemented the band as a formidable outfit. In 2009 Howard died of liver cancer, but not before he had left a deep and lasting impression on the band, as both a mentor and a friend.
It was around this time Sean met Mika Vainio: Stewart, along with Yang and Standish, greatly admired the revered Finnish producer, and the rugged electronics dabbled with on Marry Me Tonight seeped further into the bands sound as they continued to experiment with synthesizers and drum machines. Recording sessions at Netil House in London Fields led to the third HTRK album, Work (Work Work), released in 2011, a gloomy masterpiece whose resonance only becomes truly apparent after repeated listens. The band's world was turned upside down when Stewart committed suicide halfway through the album's recording. Standish and Yang finished the album as a duo, locking themselves away from the world and finding the ultimate catharsis in the studio. Work (Work Work) is intense and leaden with texture, a sonic monument to Sean that stands as one of the most underrated LPs of recent years. Thematically it explores the body's reaction to personal loss, using humour and sex drive as lyrical themes, with Standish's vocal delivery remaining strangely detached, her emotions severed and numb. It remains the bands strongest work to date, the pools of murky noise suffocating the guitar and bass, with an overwhelming atmosphere that is at once malevolent yet seductive, drawing you further down the HTRK wormhole.
Soft Kill
Portland, Oregon's SOFT KILL, ripped through 2016 with their first release on Profound Lore Records 'Choke', the follow up to 2015's 'Heresy' became the band's most acclaimed LP to date and saw the band on a constant touring cycle in support of it through North America and Europe as demand for the band was on a constant upswing. SOFT KILL now return with the triumphant follow up full length Savior to be released by Profound Lore Records on 5/11/18, bringing their unique blend of gloom, laced with pop charm and flawless song writing that transcends the post punk genre.
The writing for Savior was sparked while returning from tour, frontman Tobias Grave's wife began to bleed out in the van, at eight months pregnant they were in the middle of nowhere on the side of the road far from a medical facility. The band raced through the night landing at the emergency room of UC Davis Trauma Center in Sacramento where surgery was performed to save both the mother and unborn child. Although the surgery went well, baby Dominick's lung collapsed on his second day of life causing him to flat line. Grave was forced to standby and watch as the doctors and nurses struggled to keep his newborn child alive with blood transfusions, breathing and feeding tubes. As days turned into weeks, stranded far from home, standing vigil, he purchased a guitar, borrowed a bass from a friend and began to write songs that eventually would become the core of Savior. Grave wrote songs about losing his son, his battle with drug addiction, the many tragedies that came along with that life, and the empty space suspended between mourning and celebration, life and death.
With Savior, recorded/mixed in Kingsize Sudios in Los Angeles and produced by Benjamin Greenberg (Uniform, The Men, Algiers) SOFT KILL have matured into a powerhouse, effortlessly combining genres, always with Grave's powerful, raw emotional storytelling where we see a person come to grips with their own reflection as seen in the eyes of their dying son. From the pop perfection of "Trying Not to Die" to the swelling and crushing guitars on "Hard Candy" to the unrelenting dirge of "Bunny Room", Savior is a creative tour de force. Drawing from a diverse musical palette, Savior is influenced by early U2, Gun Club, The Replacements and a requiem to Tom Petty.
Choir Boy
Dream pop / synth pop band from Salt Lake City, UT
Choir Boy consists of Adam Klopp (vocal, synths, guitar, piano, percussion and sequencing), Katrina Marie Rick Peterson (vocals), Bret Meisenbach (guitar), Jacob Hall (drums), Kyle Hooper (keys) and Chaz Costello (bass), with strings by Alyssa Pyper.
Physical Wash