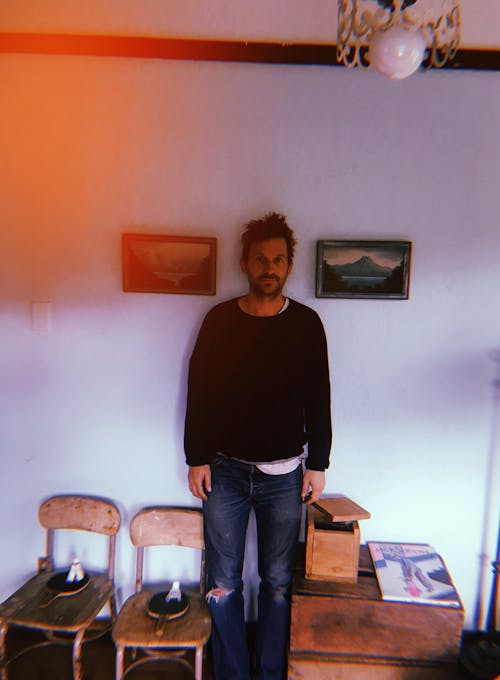 Beloved esoteric Bay Area songwriter with James Mercer-produced 2019 LP
SHOW POSTPONED TO 9/24/20: Sonny And The Sunsets
Polaris Hall
$13.00 - $15.00
On EVENTBRITE
_
Due to the Oregon Governor's order of no public gatherings, the Sonny and the Sunsets show at Polaris Hall on Mar 26, 2020 is rescheduled to Sep 24, 2020. All tickets for Mar 26, 2020 will be honored on Sep 24, 2020.
DOORS 7PM / SHOW 8PM
$13 ADV / $15 DOS
THIS EVENT IS 21+
VALID U.S. ID OR PASSPORT REQUIRED FOR ENTRY
________________________________________________________________________
Sonny And The Sunsets
Eventually serving as an outlet for the less personal material of prolific Bay Area songwriter (author, filmmaker, and visual artist) Sonny Smith, Sonny & the Sunsets merge influences like early rock, psychedelic pop, country, and Jonathan Richman with an Internet-era D.I.Y. aesthetic. Following several solo Smith releases throughout the 2000s, Sonny & the Sunsets made their full-length debut with 2009's Tomorrow Is Alright. The band continued to issue tuneful, freewheeling sets throughout the 2010s, sometimes alternating with Smith solo LPs. In a diversion that was still recognizably Sonny Smith, the Merrill Garbus-produced Moods Baby Moods from 2016 took inspiration from '80s new wave and funk.
The Sunsets coalesced in 2007 around Smith and a rotating lineup of San Francisco regulars, including multi-instrumentalist Kelley Stoltz, Tahlia Harbour (the Dry Spells), John Dwyer (Thee Oh Sees), Tim Cohen (the Fresh & Onlys), and Shayde Sartin (Skygreen Leopards). The band gave Smith an impulsive-sounding, informed backdrop for his wry love songs and touching moments of everyday weirdness.
Following a debut EP, Hypnotist, the band released its first long-player, Tomorrow Is Alright, both in 2010. That year, the Sunsets also participated in Smith's 100 Records show in San Francisco, where nearly 100 artists created jackets and labels for a series of fictional 7"s created by Smith. He then recorded songs to match their covers, presenting his recordings in the form of a working jukebox that included one credited to the Sunsets. By the time of their 2011 release of Hit After Hit, the group had solidified into a core of Smith on vocals and guitar, Stoltz on drums, Harbour on guitar and vocals, and Ryan Browne on bass.
Sonny & the Sunsets returned a year later with Longtime Companion, a country-styled record resulting from the breakup of Smith and his partner of ten years. Inspired by the murder of their Austin-based patron Esme Barrera and Smith's psychic contact with another dead friend, Antenna to the Afterworld was released by Polyvinyl in mid-2013 and represented a return to a more rock-based sound. Smith followed this album in early 2015 with Talent Night at the Ashram, a collection of songs centered around characters from screenplays and scripts he had written to various states of completion. Produced by tUnE-yArDs leader Merrill Garbus, Sonny & the Sunsets' sixth full-length, 2016's Moods Baby Moods, took sonic inspiration from the '80s. Following a pair of solo releases by Smith, the Sunsets returned with the more eclectic Hairdressers from Heaven in 2019. With production by the Shins' James Mercer, and a lineup that included Mercer, Stoltz, co-producer Yuuki Matthews, and contributions from several others, it was the first release on Smith's own Rocks in Your Head Records.