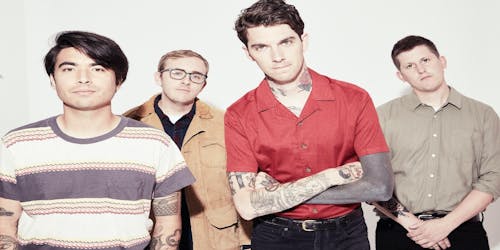 Tireless California punk heroes on Epitaph Records with emo tendencies
SHOW POSTPONED, STAY TUNED FOR UPDATES: Joyce Manor
Dogleg, Alien Boy
Polaris Hall
Dogleg, Alien Boy
Due to the COVID-19 pandemic, the Joyce Manor show at Polaris Hall on April 25th, 2020 is rescheduled to August 13th, 2020. All tickets for April 25th, 2020 will be honored on August 13th, 2020.
ALL SALES ARE FINAL. PLEASE, DOUBLE CHECK YOUR ORDER BEFORE PURCHASING. NO REFUNDS.
DOORS 7PM / SHOW 8PM
$23 ADV / $25 DOS
THIS EVENT IS ALL AGES
Joyce Manor
Let's start the story of Joyce Manor's Million Dollars To Kill Me at the end of Million Dollars To Kill Me—at the last not-even two minutes of "Wildflowers," a song about light and beauty and wonder that ends the record like a sunrise after a long exhausting night. It's not a sing-along single or a bleaked-out slow-burner. It's brief, understated, and simple but sophisticated as it says what it needs to say in seven sharp lines. And it ends the album with a question instead of an answer, because on an album like this, questions are more honest. If 2016's Cody was about growing up, then Kill Me is about what happens next—the reckonings with love, money, doubt and confusion, and the hope that persists despite it all. That's where "Wildflowers" comes in. Says Barry Johnson, band co-founder/guitarist/vocalist: "'Wildflowers' is my favorite song on the record—maybe my favorite song I've ever written. It's about how something can be so beautiful it breaks your heart."
That's Million Dollars To Kill Me: an album that glides across that tension between two perfectly opposite feelings. That's even how the guitars fit together. It's in the way co-founding guitarist Chase Knobbe can somehow make a song sound sadder and tougher at the same time, says Johnson, or the way Johnson mixes minor and major chords to invoke a precise kind of overpowering melancholy. ("I like when songs have a feeling of yearning," says Johnson. "It just feels good to me. Makes you wanna cry.") It's even in the way the album was made because it didn't start as a Joyce Manor album at all.
After Cody, Johnson contacted Impossibles' guitarist/vocalist Rory Phillips—"One of my musical heroes," he says—to produce the next Joyce Manor album. Phillips couldn't fit the commitment between work and family, but another idea materialized: what if Johnson and Phillips made a new band together? Over email, of course, since they were thousands of miles apart? So Johnson would send his half, and Phillips would send a whole song back, and it worked well. ("It was just really exciting to mail away for a song," says Johnson.) Then it worked too well. When Johnson asked Knobbe to add some guitar—on the original "Wildflowers," actually—he understood what was happening. What he'd thought of as "weird songs that were created with fake drums between two guys who were never in the same room with each other" were revealing themselves as the start of a new Joyce Manor record.
So they made a new Joyce Manor record. With Knobbe, new drummer Pat Ware—"Awesome new drummer," adds Johnson—and longtime bassist Matt Ebert, they wrote enough songs to fill a full-length, and then worked to get the ones lifted from emails to match the ones written at full volume. ("Bedroom charm versus live rock band," Johnson explains.) Their next step was a new step: their first time recording outside their L.A. hometown, at Converge's Kurt Ballou's GodCity studio in Salem, Massachusetts. They recorded daily 10-to-6 so Ballou could spend dad time with his kids at night, and then slept right upstairs in bunk beds: "Kinda felt like camp," says Johnson. "It was a pleasure—I would recommend it to anyone."
Kill Me kicks off with "Fighting Kangaroo," part Jawbreaker wit and part Jawbreaker grit, while follow-up "Think I'm Still In Love With You" digs deep into that pit between pleasant memory and unpleasant present. (Or is that what "Friends We Met Online" does?") There's the instantly catchy "Silly Games," the deadpan blue album Weezer-style pop song where Johnson and Phillips started everything, and the Britpop-py (or Teenage Fanclub-by) title track, with a final line that lands like a boulder toppling off a cliff. There's the acoustic "I'm Not The One," with equal connections to Big Star, Billy Bragg and San Pedro hometown hero Todd Congelliere, who could make a sing-song playground melody sound profound. There's a little studio-inspired experimentation: e-bow on "I'm Not The One" and glockenspiel on "Silly Games," both Joyce Manor firsts. ("I never once suggested putting glockenspiel on anything but I think it works!" says Johnson.) And finally there's "Wildflowers," that unexpected inspiration for turning weird songs with fake drums into real songs with real drums and real everything, really. That's how Kill Me began, and that's how it ends—clear, honest, direct and true. Which is about all you could ask for, whether you're starting a record or finishing it. Or listening to it.
Dogleg
"Play fast." It's a phrase that has been tied together with the experience of Michigan's Dogleg since the very beginning, when guitarist Alex Stoitsiadis taped the words to his guitar, signifying to the crowd exactly what they were about to be experiencing. Since that time in 2016, the project has gone from a solo bedroom-emo dream to a mature and fierce four-piece punk force, featuring bassist Chase Macinski, rhythm guitarist Parker Grissom, and drummer Jacob Hanlon. In the three years since their inception, Dogleg have been screaming their way out of basements and onto the road with relentless touring schedules, with both crowds and stages growing, and sharing bills alongside the likes of Joyce Manor, Foxing, Oso Oso, Prince Daddy & The Hyena, Thin Lips, and more.
"Fox" — the lead single from the band's debut LP — conveys a story of anger, anguish, and disappointment in someone that was once trusted. Diving into the song, it's not difficult to see why fans have fervently latched onto Dogleg. An adeptness at combining anthemic choruses and infectious, danceable riffs with intense emotional messages that regard topics of depression, frustration, loss, and the darkness of self doubt is one of the band's hallmarks, along with their trademark rhythmic jolts. However, there's no doubt that Dogleg toys the line with light and darkness very often - the song itself is named after Fox McCloud from Nintendo's 'Star Fox' franchise, and the band is always able to throw in moments of camaraderie and togetherness, as shown by the intense group chorus. In life, the going often gets tough, and the band certainly highlights that. However, they also show the sheer power and intensity that pure, raw emotion has - a power that is able to go from "playing fast" to moving mountains.
In the works for the better part of two years, Dogleg's debut full-length is due out in 2020 via Triple Crown Records.
Alien Boy
Alien Boy is a loud gay band from Portland, OR writing love songs for queers. It's dreams and queer feeling, and it's for you not them.
In a scene where abstruse lyrics and ironic detachment are all the rage, Alien Boy's high-stakes, loud pop is as refreshing as it is surprising. In the grand tradition of emo and pop-punk—and perhaps rock 'n roll in general—lead singer and songwriter Sonia Weber uses her songs to communicate subdued desires and secret grievances. Alien Boy's debut LP Sleeping Lessons is a collection of lullabies for the pop masochist; like all good, emotional music, Weber's songs are resonant because they're unmistakably human.
Alien Boy takes their name from a Wipers song, but elsewhere the group's PNW lineage is felt in a mordant grit gleaned from Team Dresch and early Heatmiser. It sets the tone for Weber to mix her deep-seated love of early 2000's generational touchstones with a Britpop frostiness to brilliant and totally unique results—from the tremolo dives and Stone Roses references on Ride-y opener "Somewhere Without Me", to the sun-kissed, sub-three-minute power pop bliss of "600 Days". Weber's melodies are so bright and effective it's easy to forget they come from a place of absolute emotional torment. (Mo Troper)