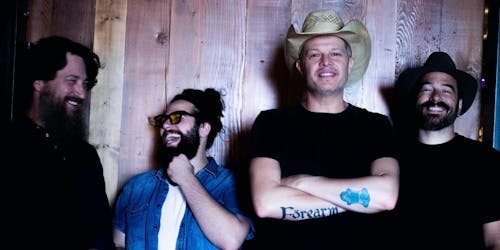 20th Anniversary Tour from Oklahoma/Texas emotive red-dirt country group
SHOW CANCELED: Jason Boland And The Stragglers
Elaina Kay
Polaris Hall
Elaina Kay
Due to the Oregon Governor's order of no public gatherings of more than 250 people, the Jason Boland and the Stragglers show at Polaris Hall on March 19, 2020 is rescheduled to July 30, 2020. All tickets for March 19, 2020 will be honored on July 30, 2020.
ALL SALES ARE FINAL. PLEASE, DOUBLE CHECK YOUR ORDER BEFORE PURCHASING. NO REFUNDS.
DOORS 7PM / SHOW 8PM
$18 ADV / $20 DOS
THIS EVENT IS 21+
VALID U.S. ID OR PASSPORT REQUIRED FOR ENTRY
________________________________________________________________________
Jason Boland And The Stragglers
Music is having a moment. Listeners are crying out for something true––some meaty songs that'll give us some comfort, even as they cut closer to the bone.
Everyone is finally ready for the gritty, thundering country Jason Boland and the Stragglers have sharpened over almost 20+ years' worth of selling out roomy venues and commanding stages across the nation.
"We're just trying to make something that we're proud of," lead songwriter and vocalist Boland says. "If any more people want to take notice of it, they're welcome."
Since coming together in Stillwater, Oklahoma, Boland and his tight knit crew have sold more than half a million albums independently and earned a devoted following that's swelled far beyond the band's red dirt roots. At a Stragglers show, oil patch roughnecks, hippies, college kids, and intelligentsia all sway side-by-side like a traveling reincarnation of Austin's Armadillo World Headquarters in its cosmic cowboy, Willie Nelson heyday.
While the Stragglers draw from rock and folk, make no mistake: they traffic in unfiltered, unfettered honky-tonk, raw and lean.
For 2020, the band is celebrating the 20th Anniversary of their debut album Pearl Snaps with a nationwide tour where the band will play the record front to back along with favorites from their extensive catalog. The legendary record was recorded with famed producer Lloyd Maines and behind the success of songs like "Pearl Snaps" "Somewhere Down in Texas" "Proud Souls" and others it quickly became a beloved classic and still continues to be named as a major influence for many of the top artists coming out of the Texas/Oklahoma country music scene.
Elaina Kay
"In the last few years, I've grown so much," Elaina Kay says. She's home in Texas, reflecting on the relentless writing, playing, and touring that has culminated in her swaggering debut album Issues. "I'm not that small-town ranch girl anymore," she says, then with a smirk, she adds, "I run with the boys."
Kay talks like she writes: defiant but vulnerable, hopeful but wry. Her new album wraps all those occasionally opposing forces in Kay's countrified rock-and-roll to create a modern portrait of steely femininity that's sad, funny, and ultimately, inspiring. "I don't want to be a victim," she says.
Produced by Paul Cauthen and engineered by Jeff Saenz, the new album was recorded at Modern Electric in Dallas. Backed by The Texas Gentlemen, Kay's moody soprano slides from breathy storytelling to golden-era country songbirding and back again, nuanced and captivating. She wrote or co-wrote seven of the eight tracks, and the result is a layered collection that is both starkly personal and intensely relatable.
Kay comes by her self-reliance naturally. She grew up on her family's ranch in Wichita Falls, Texas, 15 miles south of the Oklahoma border. Up at 4 a.m. every day, she helped farm and raise cows and cutting horses. "There was always something to do––lazy wasn't an option," she says. "Then, it was a pain in my ass, but now, I miss it. Especially when it's sunny outside."
In between ranch chores at dawn and dusk, Kay discovered music. Her grandmother, Meemaw, noticed, and took her to perform at county fairs, beauty pageants, nursing homes, and everything in between. Kay remembers vividly when she began composing her own songs. They were living in a single-wide trailer while her dad built the family a new house. "He was stubborn and building it by himself," she says. "He said, 'We'll be in this trailer for six months.' Well, we ended up being there for about three years. I hated it. But now, I see I had more fun and more great memories living in that trailer. That is where I really started writing." Country kids are the last to be dropped off, so on long bus rides home from school, she also took pen to paper.
For college, Kay loaded up two horses and her dog and headed to Tarleton State University, where she joined the rodeo team. "Rodeoing trained me to be on the road like I am now," she says. "I was traveling then, too, just with horses instead of with long-haired dudes in a band."
Kay loved to rodeo, but she realized she loved music more. So she took her horses home and hit the road, this time with her guitar, singing songs in bars throughout the South. Nashville beckoned, and without a safety net or fully formed plan, Kay packed up and moved to Tennessee. She rented a room in what she became to know as the "rock hostel," a three-story house full of boys in bands. Kay didn't know a soul, but she jumped in, wrote more songs, and made more friends.
On Issues, Kay uses pieces of her unconventional upbringing to fuel her songwriting. The album opens with the strutting "Daddy Issues," a true story about Kay's biological father running afoul of the law. Kay says "more importantly, the song is about embracing our issues or problems that stem from our upbringing and to make light of the term 'she's got daddy issues.' This shouldn't be a bad or sad thing; it's about being proud of what made us who we are."
"Rodeo" finds Kay digging into the similarities between her life in rodeo and life on the road. "You are chasing a dream," says Kay. "One that's far from easy. Living on the highway, putting yourself out there, and doing your best. One just had teammates and horses, the other has band mates with long hair. I am equally passionate about these two worlds and knew I needed to write about the similarities they share."
Asked what she hopes listeners experience when they hear the new songs, Kay is resolute. "When I write a song about something, I'm over it––I can close that book and move on with my life," she says. "That's what I want for people who listen to my songs. If one of my songs could get someone to that other side, like it has for me, that'd be the coolest thing."