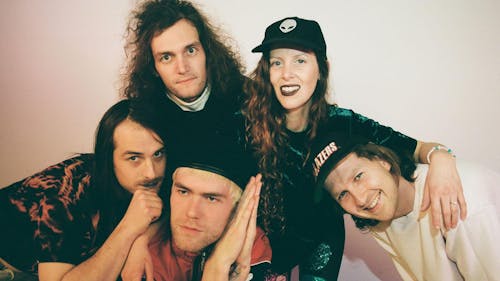 Reptaliens
Marinero, WEEED
Mississippi Studios
DOORS 7PM / SHOW 8PM
$10 ADV / $12 DOS
THIS EVENT IS 21+
VALID U.S. ID OR PASSPORT REQUIRED FOR ENTRY
Reptaliens
When Bambi and Cole Browning started writing the songs that would be become Reptaliens' 2017 debut LP, FM-2030, they had no intention of starting a band. Focusing at first on creating music and art on a purely personal level, the project soon took off when the duo brought on Julian Kowalski (guitar) and Tyler Verigin (drums) to form a live band. The four-piece swiftly delved into songwriting inspired by sci-fi art and literature, cult mentalities, and deep connections. The result was the band's self-defined genre of "dreamwave," which connected musical influences ranging from Gary Wilson-inspired jazzy lounge music, the warmth of Broadcast's recording production, to Todd Rundgren's outer space synth sounds.
After touring throughout most of 2017 and 2018 with STRFKR, Cults, and Of Montreal, the band returned home and went straight into renowned Portland studio Jackpot to record their sophomore LP, VALIS. Titled after the 1981 Philip K. Dick novel, VALIS is a cohesive collection of songs unified in sound and structure and supported by recurring lyrical themes. Reptaliens wanted to recreate the warmth of something personal and familiar, while also providing the listener with the room to create a unique and personal relationship with the music. This duality can be found in the constructs, themes, and imagery portrayed through vocalist and bassist Bambi's lyrical concepts. Juxtaposed against the backdrop of friendly and lighthearted pop hooks and melodies, Bambi engages her audience through motifs of loneliness, longing, abduction, isolation, and change as well as love and personal connection.
Marinero
Marinero is a solo project dreamt up by Bay Area chicanx songwriter/composer Jess Sylvester in 2014. He is a man of many projects and has taken part in groups that delve into a variety of genres ranging from punk/hardcore (Violent Change, Tiger Uppercut, Crisis Man) to sampledelia (Francisco y Madero). Francisco Y Madero, was the precursor to Marinero and the beginning of his cholo-fi signature style of taking samples of 60s latin music and adding spacey pop flavors. Jess takes Marinero's sound elsewhere in Trópico de Cáncer which is rooted in bossa nova and Tropicália and gathers influence from groups like chicano rock bands like Los Freddy's, Los Angeles Negros, and Malo.
Needle To The Groove proudly presents Marinero's colorful debut, Tropico de Cancer, featuring "Flor de Jamaica" & others. Coming 2019!
Weeed
WEEED features a quartet of best friends jammin' on double drum sets, electric bass, guitar, flute, vocal harmony and ambient live looping. Their blend of heavy psychedelic wildness, trance and improvisation draws influence from musical traditions around the world as well as the sensuous landscape they call home in the Pacific Northwest.
Since 2009, they have produced a number of albums, extensively toured the US and shared the stage with bands such asAcid Mothers Temple, Wand and Dead Meadow and have often been compared with King Gizzard & The Lizard Wizard, Fuzz and Pink Floyd.