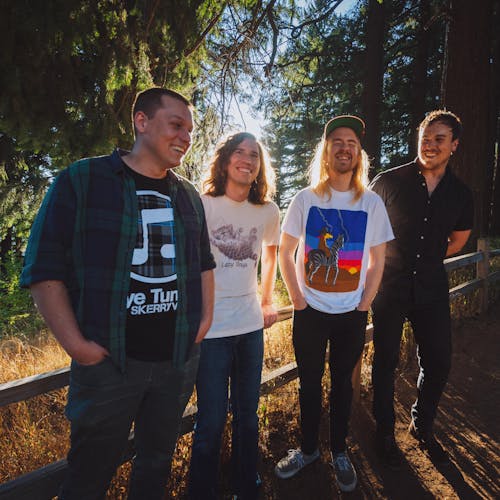 A co-headlined evening with intricate and emotive PDX bands with new music
Rare Monk / Bodies On The Beach
J. Graves
Mississippi Studios
_
MOSTLY STANDING / LIMITED BALCONY SEATING
DOORS 7PM / SHOW 8PM
$8 ADV / $10 DOS
THIS EVENT IS 21+
VALID U.S. ID OR PASSPORT REQUIRED FOR ENTRY
________________________________________________________________________
Rare Monk
Rare Monk is a four-piece indie rock band from Portland, OR. They sprang into life in 2014 via debut double-A side single Splice/Sleep Attack – a psych-rock leaning set of tracks. A self-titled EP followed in 2015 which saw the band try out a more apocalyptic sound, offset against upbeat-sounding singles such as "Warning Pulse" and "California (Will Burn)". Their debut full-length album, "A Future", recorded over the course of a year and a half saw several line up changes including the addition of now-lead guitarist and backing vocalist Hugh Jepson. 'The [album] deals with death and agency…,' the band has said. 'The world is a sh*t-show right now and it feels like all we can do is make popcorn'. Currently, the band is getting ready to release their sophomore effort, due in early 2020.
Bodies On The Beach
Bodies On The Beach began as solitary exploration for Navid Eliot. With the addition of two Seattle music scene mainstays (Evan Gackstatter and Andrew Ginn), the home recordings of Eliot began to shift: from art project to art-centric rock n roll.
As in his work in the nationally-celebrated Planes On Paper, Eliot's fingerpicking remains the simple, skeletal foundation of Bodies On The Beach, though now amidst swirls of tape delay and reverb. Author Ari Rosenschein described the project by saying, "like other self-aware tunesmiths, Eliot knows that good tremolo guitar and song chops go a long way."
Bodies On The Beach released their first single and B side, "Coaster," on March 5th. Their first EP, Ghost, is slated for release in late 2019.
J. Graves
If you don't believe in second chances then you don't believe in J. Graves. After a four year writing hiatus front woman Jessa Graves (HelloKopter) returns to her purpose with the first full-length record of her musical career. Heavily influenced by Karen O, PJ Harvey, Emily Haines and other indie / Post Punk heavy hitters, she sings with the most heart wrenchingly beautiful grit you can get. You'll dance, you'll cry, you'll feel everything you never wanted - but you'll surely feel thankful that you got it. J. Graves makes sweet and agonizing garage rock for the ghosts of lovers past. Portland-based, Graves is joined by Barret Stolte on Bass and Aaron MacDonald on drums. Marathon releases Friday, 9/13/19.