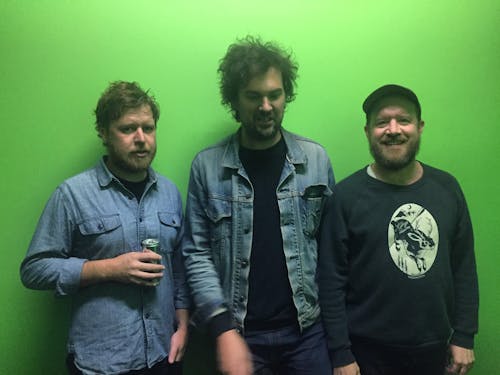 Influential Seattle folk-rock band with members of Pretty Girls Make Graves
SHOW POSTPONED, STAY TUNED FOR UPDATES: The Cave Singers
somesurprises
Mississippi Studios
$20.00 - $24.00
POSTPONED
On EVENTBRITE
_
MOSTLY STANDING / LIMITED BALCONY SEATING
DOORS 8PM / SHOW 9PM
$20 ADV / $24 DOS
THIS EVENT IS 21+
VALID U.S. ID OR PASSPORT REQUIRED FOR ENTRY
________________________________________________________________________
The Cave Singers
Given the rising popularity of meditative, folky indie acts in the early 2000s, forming a twangy, rootsy folk trio was probably the least surprising move Derek Fudesco could have made. The former bassist and founding member of the successful indie rock group Pretty Girls Make Graves picked up an acoustic guitar and formed the Cave Singers following PGMG's demise in January 2007, teaming up with vocalist Pete Quirk and drummer Marty Lund.
The Cave Singers released two albums on both Matador and Jagjaguwar Records. Following these releases, The Cave Singers began work on their fifth album. Rather than working with a record company, they opted to coordinate the project themselves and financed the recording through a crowdfunding campaign. The campaign raised 116 percent of the group's goal, and the album, Banshee, was released in February 2016.
Somesurprises
Somesurprises is the moniker of Seattle singer/songwriter Natasha El-Sergany. What once was a solo project focusing on spectral balladry and late night exploration, somesurprises has since formed into a dynamic live band. Motorik beats, reverb-drenched vocals, washes of fingerpicked guitars, and hazy synths expand El-Sergany's delicate and blissful songwriting.
Starting with a solo tape release of cell phone recordings on 2016's Voice Memos, El-Sergany then collaborated with guitarist Josh Medina (Debacle Records) for duo debut ambient album, Serious Dreams, released on Eiderdown Records in 2017. Serious Dreams was described by The Quietus as "a thoroughly cosmic outing.
Everything is lush and smooth enough to describe as ambient music as much as folk, almost seeming too dreamy to have ever been real." The release also received kind reviews from Bandcamp, The Stranger, Seattle Weekly, and Tiny Mixtapes. Next, somesurprises took to recording as a full band with drummer Nico Sophiea
(MX-80 Sound) and bassist Emma Danner (Red Ribbon), releasing Alt, on LA's Doom Trip Records in 2018. Aquarium Drunkard compared the three-song "krautpop" EP to an imaginary collaboration between Grouper and Spiritualized. In early 2019, somesurprises put out a collaborative split tape with Seattle's Supercandy (some candy, released by Crash Symbols), with guest musicians Brenan Chambers, Lori Goldston, Monika Khot, and Ambrosia Bardos weaving layers of soaring guitar effects, cello, vocals, and trumpet into the mix.