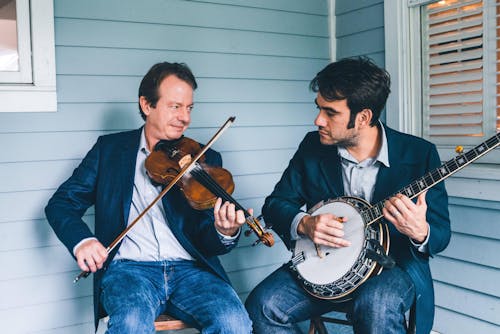 America's finest banjoist and fiddler come together
Evening With Noam Pikelny & Stuart Duncan at Polaris Hall
_
DOORS 7PM / SHOW 8PM
$26 ADV / $28 DOS
THIS EVENT IS ALL AGES
GENERAL ADMISSION & FULLY SEATED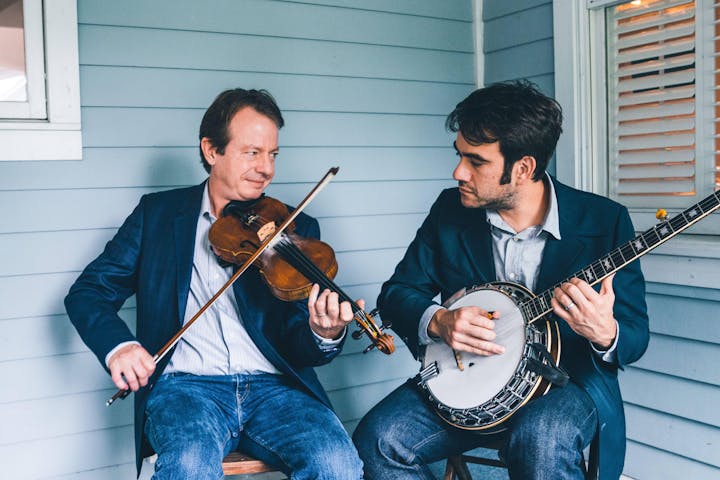 Noam Pikelny
NOAM PIKELNY has emerged as the preeminent banjoist of his generation. He is a founding member of Punch Brothers, a 3-time Grammy Nominee and was awarded the first annual Steve Martin Prize for Excellence in Banjo and Bluegrass in 2010. Universal Favorite is the fourth record Noam Pikelny has released under his own name, but it's truly his solo debut. His previous solo efforts—including 2014's landmark Noam Pikelny Plays Kenny Baker Plays Bill Monroe—were full-band affairs that revealed his abilities as a dynamic bandleader while reinforcing his reputation as an inventive accompanist. The new release features only the man himself, playing lovely originals and covers that showcase his unique approach to the instrument and compositional flair. He recorded them live in the studio without accompaniment, coaxing a wide array of sounds and colors out of his instruments, embracing the challenges and exploring the new possibilities of the solo setting. And, for the first time in his career, Pikelny even sings. It turns out he has a striking deadpan baritone that conveys humor and melancholy in equal measure. This album, he says, is "is the most personal statement I've put forward. The setting couldn't be more stark and I think it lays bare my musical core. Most importantly, it's an incredibly honest solo album, in that there are honestly no other people on this record other than me."
Stuart Duncan
Stuart Duncan could easily be called America's favorite fiddler. Raised by folk musicians in southern California, Stuart took up the fiddle at age 7. Since then, he has chalked up a career that includes four Grammys, a slew of Academy of Country Music Awards, and nine titles as the International Bluegrass Music Association's Fiddle Player of the Year. He was a founding member of the Nashville Bluegrass Band and is perennially one of Nashville's most sought- after session musicians, performing on hundreds of recordings. Stuart is known for his skill and imagination, his ability to shift easily from the most ancient sounding Appalachian tune, to some deeply jazz and funk-inflected contemporary melody. He is able to improvise perfect and utterly new ideas that are exactly what the musical moment requires, and he is able to do this at frighteningly fast tempos with perfect tone and intonation.
Now a multi-instrumentalist, with a staggering command of, not only the fiddle, but also, the banjo, the guitar, and the mandolin, Stuart Duncan has built upon his bluegrass roots to become an artist that defies categorization and surpasses the limits of any specific genre. The consummate sideman, Stuart has lent his particular taste and tone to countless artists and projects. Whether trading dizzying instrumental licks with the likes of Bela Fleck and Jerry Douglas, or adding complimentary fills for vocalists Alan Jackson and Barbara Streisand, Stuart has found a professional home both in the studio and on tour. From Robert Plant to Panic at the Disco, Stuart's playing and influence can be heard among many of today's top hit- makers. In fact, though no one has a true count of how many recordings feature Stuart Duncan, the current estimate nears 900.
The most recent evidence of Stuart's cross-genre expansion is The Goat Rodeo Sessions, his collaboration with Chris Thile, Edgar Meyer and Yo-Yo Ma. This collaborative album, featuring compositions written by Duncan, as well as Meyer and Thile, was released in 2011. The ensemble played their first public concert in January 2012, which was streamed live to movie theaters across the United States. Goat Rodeo Sessions won the 2013 Grammy Award for Best Folk Album, granting Stuart his fourth Grammy, following two for The Nashville Bluegrass Band, and one for his participation on O Brother, Where Art Thou.Despite the awards and accolades, Stuart Duncan remains one of the most humble men in the music business. A father of 3, he spends his time, while not on the road or in the studio, rebuilding rare instruments, hanging out with his wife of 25 years, Dieta, and backing up his fellow congregants during Sunday service. If you aren't a music industry insider, Duncan's the most famous fiddler you've never heard of. Just take a closer listen to your favorite music... chances are, that's Stuart on fiddle.