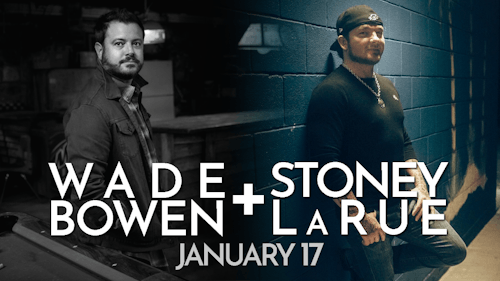 Stoney LaRue
Wade Bowen
THIS SHOW HAS MOVED TO REVOLUTION HALL. ALL MISSISSIPPI STUDIOS TICKETS WILL BE HONORED. REVOLUTION HALL TICKETS AVAILABLE HERE
Stoney LaRue
l"I like to connect with people at any age, whatever it might be sonically or to the depth of what they are willing to think as LaRue reflects on this important connection he has fostered with his fans over his 15-plus years of touring and recording music. Together, LaRue and his fans have culled together a "favorite live song set" that is dedicated to his loyal and growing fan base.
LaRue is known for his real life, thinking man's music as well as his high energy live concerts with fans singing along to songs such as "Feet Don't Touch The Ground", "Look At Me Fly", and "Oklahoma Breakdown".
Being able to connect with fans the way we can today is mind blowing to LaRue. When this journey started over 15 years ago, communication was restricted mainly to the stage, written letters and before show meet and greets. Now with social media along with the audience feedback at his shows he feels closer to them than ever and looks forward to the future as he travels around the world writing songs as well as performing.
Independently charged, LaRue has sold over one million records over his career and plays 200-plus shows a year, and he has released a new single "You Oughta Know" in November 2018.
Wade Bowen
It's all in the timing.
As Wade Bowen looks ahead to the full-length release of his major-label debut and his emerging transition from regional success to national prominence, there was one vital dynamic affecting the timing: his fans. Across five independent albums and a decade-plus of touring, Bowen not only amassed a string of regional hits and awards, but also the kind of fan base whose passionate anticipation motivated the timing behind the May 2012 release of The Given, a 10-song collection and his first new music since 2008's If We Ever Make It Home.
Indeed, in the fourteen years since Bowen launched his career at Stubb's Barbecue in Lubbock, Texas, he's risen from collegiate greenhorn to the top of the Texas music and Red Dirt circuit. His colleagues and friends Pat Green, Jack Ingram, Eli Young Band and others had made the major-label leap, helping to take a vibrant regional sound to the rest of America. Now Bowen is poised to bring that Red Dirt and independent spirit to country music at large.
Make no mistake, this collection is a document of artistic evolution. Longtime fans (and there are quite a few of them) will hear the Bowen they've known and the next steps on his journey. They'll get better acquainted with the ballad singer who doesn't often get a chance to show that side of himself in honky tonks. Newcomers will hear a head-turning country artist with range, road-tested hits and one of the best male voices in the business.
That voice truly jumps out of these tracks. Wade's baritone is dense and concentrated, with traces of whisky and smoke and an autumnal warmth. Bowen takes command of his songs, cutting over the top of producer Justin Niebank's sculpted guitar-scapes. The sound is one hundred percent country, rife with pedal steel and vivid emotion, but it's also music that could easily find a home with fans of Bowen's rock idols - folks like Bruce Springsteen and Jackson Browne. Take a few passes through this project and you'll hearing a singer's singer and a focused songwriter who's adding layers to his music all the time.
"All this work and the care we've taken with this album just fall in the category of trying to get better," says Bowen. "When it comes to my intent as a musician, I've not changed anything since day one. I've only tried to mature and tried to get better, and I think this record is representative of that." On a live circuit where the overwhelming mandate is to stir up a party, Bowen has aimed to leave folks with a memory. As a writer, even one from a state with some tall literary traditions, he's not trying to earn a PhD in poetry; he's trying to communicate. "My style," he says, "is more to try to evoke an emotion. I'm more about trying to leave a mark on people."
Growing up in Waco, Bowen's exposure to the music of Texas was limited to whatever made it on FM country radio. George Strait was king. Guy Clark was a name he'd not have recognized before getting to college. But at school, in Lubbock, he discovered the full spectrum of Texas artistry, starting with Robert Earl Keen. "He was a big changing point in my life," says Wade. "I realized by listening to him that there was way more out there than I ever knew. So I started getting into Guy Clark and other great Texas music. But I was obsessed with Robert Earl. When we started the band we were sort of a Robert Earl cover band."
That band was called West 84, and they found that with their large posse of friends who'd always show up for a good time, it was easy to land gigs. Bowen meanwhile began to channel a lifelong love of writing into songs, and when college ended he made two major decisions. He took on the role of solo artist, and he moved to Austin. By then, about 2001, fellow Waco native Pat Green had busted out to national prominence and the Texas music phenomenon was the buzz of Nashville. It was part of Wade Bowen's inspiration to charge ahead.
Try Not To Listen is the album Wade regards as his true debut, the project that kicked off a life and living made of 200-plus nights a year on the road and patient grassroots fan development. Then with Lost Hotel in 2006, things really began to click. The opening track "God Bless This Town" reached No. 1 on the bellwether Texas Music Chart, and over the next six years, he released six more chart-toppers and three additional top fives. He achieved another landmark when he was invited to add his name to the roster of great artists who've made a Live At Billy Bob's CD/DVD combo at the iconic club in Fort Worth. With a decade that good, it was inevitable that Music Row would become interested.
The origins of Bowen's Nashville record deal can be traced to his music publisher, Sea Gayle Music. It's where Brad Paisley, Radney Foster, Jerrod Niemann and others do their songwriting, and in 2010, it was the first indie company to be named ASCAP Country Publisher of the Year since 1982. Sea Gayle has a track record of investing in artists and helping them reach their potential, and that's how they've worked with Bowen, ultimately backing this album and introducing its independently made sound to Sony Music Nashville. Step one in that process was to find a producer who could preserve Wade's vision yet find the sweet spot that would help his music have its best chance at country radio. "Of all the producers we talked to, Justin Niebank was the only one who said, 'I need to come down and see you live,'" says Bowen. "Well, after 13 years of doing this I'd hope someone would want to see what we do, why we have fans. He totally got it and based the whole sound of this record around that."
That live immediacy certainly throbs on disc-opener "Saturday Night," which tracks the internal monologue of a lonesome hombre sitting on his stool, nursing his drink and thinking about "that sad goodbye." Its chiming descending guitar riff will be the first thing many audiences hear from Wade, his calling card. Also likely to grab listeners early is "Patch Of Bad Weather," a brisk, rocking take-down of a treacherous lover. It paints dramatic pictures of a stormy Texas landscape and it kicks like a gun. A further highlight is a cover of Guy Clark's "To Live Is To Fly," in a duet with the man himself.
Bowen has also taken advantage of his recent songwriting sessions and the comfortable studio environment fostered by Niebank to develop his love of ballad singing and the emotional side of country music. "All That's Left" brings strings into the mix, and it works. Bowen sounds at home. In "Say Anything," a guy can't think of a thing to say to a girl he's just met except gush on about the one he let get away, so he shuts up and listens. Its chorus will surely make some leading male country singers wish they'd been given a shot at the song. "I love those songs like that. Sad ballads," says Bowen with an apologetic shrug. "That's where my passion is. 'Say Anything' is one of my favorite tracks on the record."
So think of The Given as a gift to the fans and a teaser for even better things to come. Wade knows full well how much his fans have given him over the years, and he's more than happy to plan a long career ahead giving everything he can back.
"This record, like everything in my life, is not necessarily what I planned or even asked for," says Wade. "But this is, thankfully, what has been given to me. I'm a very lucky and blessed man. And I have The Given to thank for that."