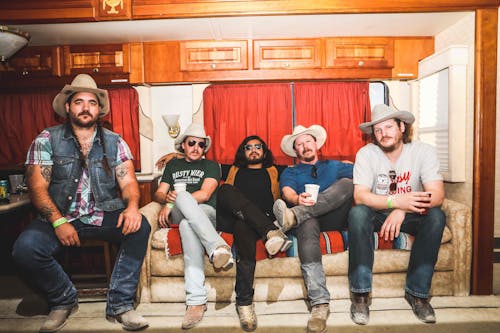 A Texas two-step of energetic, orchestral Americana and soulful blues-rock
Mike and the Moonpies / Quaker City Night Hawks
Polaris Hall
$15.00
Tickets At The Door
_
DOORS 7PM / SHOW 8PM
$15 ADV / $17 DOS
THIS EVENT IS 21+
VALID U.S. ID OR PASSPORT REQUIRED FOR ENTRY
________________________________________________________________________
Mike And The Moonpies
Recorded at Abbey Road Studios with help from the London Symphony Orchestra,Cheap Silver and Solid Country Gold is Mike and the Moonpies' most adventurous record to date – an album that diversifies the band's honky-tonk roots by adding lush strings, cinematic arrangements, and collaborative songwriting to the mix. Inspired in part by the classic "countrypolitan" music of the 1960s and early '?Os, these songs find frontman Mike Harmeier channeling the smooth delivery of crooners like Glen Campbell and Frank Sinatra, backed by a band of road warriors who all played a major role in the songs' construction. The result is a modern record steeped in everything that made the old stuff so compelling: sharp storytelling; honest, dynamic per­formances; and a willingness to step far outside the box.
Once celebrated as Austin's premiere dancehall band – with popular residencies at local institutions like The Hole In the Wall, Broken Spoke and the White Horse to match – the Moonpies have spent years expanding their reach far beyond the Lone Star State. Geographically, they'll always be a Texas band. Musically, they've grown into much more than that, having traded the two-steppin' twang of their earlier years for a diverse sound that's both fresh and familiar. That sound has earned the group an international following, and it was during a European tour that the bulk of Cheap Silver and Solid Country Gold was created -in the same world-renowned, London-area recording studio where the Beatles recorded Sgt. Pepper's Lonely Hearts Club Ban­d and Pink Floyd tracked Dark Side of the Moon, no less.
"Every time we've taken a step forward, it's a result of us refusing to become stagnant," says Harmeier, who's joined by his longtime band – pedal steel player Zach Moulton, guitarist Catlin Rutherford, bassistOmar Oyoque, keyboardist John Carbone, drummer Kyle Ponder, and producer/collaborator Adam Odor – on Cheap Silver and Solid Country Gold's eight tracks. "We left our dancehall residencies years ago because we wanted to expand our touring beyond Texas. We updated our approach with­Mockingbird, then went back to a more traditional sound – in a 1970s, Johnny Paycheck-inspired way – with [201 S's
break-out album] Steak Night at the Prairie Rose. 10 years into our career, we're still finding our voice … and we're realizing that maybe it's not one voice, but a collection of voices."
A collection of voices, indeed. The album's lead single, "You Look Good in Neon," is a nostalgic toe-tapper that evokes Ronnie Milsap's golden years, while "Fast as Lightning" is a raucous road song that's every bit as electrifying as its title. On the nostal­gic "Cheap Silver," Harmeier takes stock of his band's progress as an eight-piece string section swoons in the background, while on "Danger" – a hard-charging epic that's fit for a Hollywood western, with a cameo by Shooter Jennings to boot – he sings directly to his son. Also making guest appearances on the album are modern-day outlaw Nikki Lane, who contributes harmony vocals to "Miss Fortune," and fellow Texas native Season Ammons, who shows up during the album's elegant cover of Gary P. Nunn's "London Homesick Blues."
Although largely recorded in London, Cheap Silver and Solid Country Gold still owes its inception to Texas, where the band­mates spent a week co-writing and arranging songs at renowned yellow DOG Studios in Wimberley, TX. "Everyone had a hand in the creation process, from start to finish," says Harmeier, who shares co-writing credits with multiple Moon pies throughout the album. "I usually come to the table with all the songs already written, but this album is entirely different. We worked on every­thing together. It was the most collaborative thing we've ever done. It was truly the work of a band."
It's been more than a decade since Mike and the Moonpies launched their career, initially paying their dues as a versatile cover band with a catalog of 300 songs. Cheap Silver and Solid Country Gold nods to those woodshedding days – not only in the al­bum's title track, where Harmeier raises a drink and sings, "Here's to another night of paying our dues," but also in the album's handful of cover songs. The boys resurrect the twangy spirit of their dancehall days with "If You Want A Fool Around," written by Billy Troy and Bennie Boling, and also put their own stamp on Aaron Sinclair's "Young in Love." Those covers serve as a tip-of-the-hat to the band's roots, while also demonstrating that the Moon pies' own songs pack just as much punch as the songs of their heroes. Harmeier and company haven't forgotten about their bar-band beginnings, but these days, they're more inter­ested in creating their own gold.
Cheap Silver and Solid Country Gold rewrites the definition of Mike and the Moonpies' music, turning vintage influences into a contemporary that's dark, reflective, and refined.
Quaker City Night Hawks
Quaker City Night Hawks' brand of hard rock n' roll is bred from Texas boogie, Memphis soul and heavy blues. Their music is southern rock right out of '75, played with the fervor of a sermon crackling out of the radio in a '68 Lincoln. They're the whiskey bottle you finished Saturday night and the prayer you said the next morning. Like a country gunshot on a humid night and your first illicit beer, Quaker City Night Hawks are the spirit of rock n' roll. Come shake your hips.