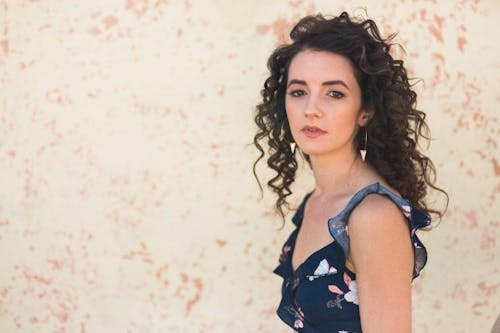 Americana songwriter from Nashville with alt-country and rock influences
Michaela Anne
Barna Howard
Polaris Hall
$12.00
Tickets At The Door
_
DOORS 7PM / SHOW 8PM
$12 ADV / $14 DOS
THIS EVENT IS 21+
VALID U.S. ID OR PASSPORT REQUIRED FOR ENTRY
________________________________________________________________________
Michaela Anne
Full of lush, sweeping arrangements and honest, deeply vulnerable self-examination, 'Desert Dove' marks a bold new chapter for Michaela Anne, both artistically and professionally. While the songwriting is still very much rooted in the classic country she's come to be known for, the record (her first for Yep Roc) represents something of a sonic shift, incorporating more modern production elements than ever before in pursuit of a sound that owes as much influence to indie rock as honky tonk. Despite the bolder, more adventurous arrangements, Michaela's crystalline voice remains front and center on the album, a pure, airy beam of light shining bravely into the dark corners of loneliness, pain, and desire that we all so often to try to hide.
Produced jointly by Sam Outlaw and Delta Spirit's Kelly Winrich and recorded with an all-star band that included guitarist Brian Whelan (Dwight Yoakam, Jim Lauderdale), fiddler Kristin Weber (Kacey Musgraves, Margo Price), and drummers Mark Stepro (Ben Kweller, Butch Walker) and Daniel Bailey (Everest, Father John Misty), 'Desert Dove' is an achingly beautiful collection, with songs that frequently find themselves balancing optimism and fatalism in the very same breath. There's an undercurrent of yearning in Michaela's music (the melancholy "Be Easy," for instance, chases a peace of mind that never comes, while the breezy "Child Of The Wind" longs for connection and permanence in the face of perpetual itinerancy), as well as a fiercely feminine perspective that's assured in its power and unapologetic in its candor. The prostitute of the title track challenges the traditional perception of women as a source of comfort and service for men ("You love them all the way they want and they need / But tell me who does your heart wish to please?" she asks), and the spirited "If I Wanted Your Opinion" offers up an all-purpose response to gendered condescension.
Michaela first began garnering national attention with the 2014 release of 'Ease My Mind,' an old-school collection hailed by The New York Times for its "plain-spoken songs of romantic regret and small-town longing" and named one of the year's best country albums by The Village Voice. After a move from Brooklyn to Nashville, Michaela followed it up in 2016 with the similarly lauded 'Bright Lights and the Fame,' which featured guest appearances by Rodney Crowell and Punch Brother Noam Pikelny. NPR said Michaela "works through weepers and hits the honky-tonks as every great country singer should," while Rolling Stone compared her to Linda Ronstadt and Emmylou Harris, and Vice Noisey praised her as the antidote to commercial pop country, calling her "our saving grace, our angel, the person who will help usher us into a new age." Songs from the record landed on high profile Spotify playlists as well as the HBO series 'Divorce,' and the album earned Michaela slots at Bristol Rhythm & Roots, Merlefest, and both the US and UK iterations of AmericanaFest, along with a seemingly endless series of dates across the States and Europe with the likes of Mandolin Orange, Courtney Marie Andrews, Joe Pug, Ron Pope, and Sam Outlaw.
Since the release of Desert Dove on Yep Roc Records in September 2019, the critical acclaim has continued. The album has received national praise from a multitude of outlets that include Billboard, Rolling Stone Country, NPR, Paste Magazine, Wide Open Country, Brooklyn Vegan, Albumism, Associated Press, No Depression, The Bluegrass Situation and The Boot. Regionally, Michaela has appeared in print in Nashville Scene and Nashville Lifestyles, who commented that, "The classic country-style songs sound as if they're being sung from an expansive cave or a massive honky tonk… the effect is a group of acoustic songs with the brevity of country songwriting and the capricious intensity of indie rock." The fall of 2019 saw Michaela's debut on Mountain Stage while Philadelphia's WXPN named her their Artist of the Month. Desert Dove has been appearing on multiple end of year lists including Albumism's top 50 best albums of 2019 as well as both Stereogum and Rolling Stone Country's top 10 best Country & Americana albums of 2019. Rolling Stone Country described the album as "a textured portrayal of turmoil and restlessness set to a mix of West Coast-country, atmospheric indie-rock indebted reverb and plaintive folk-pop." while Stereogum considered Michaela as "hard to pigeonhole" with "a perspective so uniquely her own on Desert Dove, an album that paints a story of a life lived on her own terms." They summed it up even more concisely, saying Michaela and the album were simply "impossible to forget."
Barna Howard
Barna Howard was born and raised in a quintessential Midwest town. His youth in Eureka, Missouri was pure Americana – the sort of childhood that inspired E.T.-era Spielberg – baseball cards in his bicycle spokes, flying freely down Main Street and through neighbors' backyards.
However, much of Barna's story is not unique to his hometown, and, like most of small-town America, Eureka has lost some of that charm over time. Main Street has changed, kids don't run around quite so carelessly, and in an almost laughably cruel twist, his childhood home was knocked down in favor of a Walmart parking lot.
After high school, Howard moved north to study animation in one cold and windy city and then east for love in another. Years later, he blindly followed two friends to the Northwest, crossing the Rockies for the first time, in search of inspiration, opportunity, and a fresh start.
Barna's self-titled debut chronicled these moves as he struggled with the contrast between his small-town upbringing and these big city wanderings. The album was met with critical acclaim and underground success, partly thanks to an opportunely placed song in the hit indie film, Drinking Buddies. One critic even likened him to some "lost genius of the 60s."
The songs on Barna Howard's second album, Quite a Feelin', ruminate on his relationship with home. Now entrenched in Portland, Oregon, many of the album's tracks immortalize and reflect on the Eureka he once knew, while others focus on the relationships that define his new home out west. Small town life has long been celebrated in country and folk music, but Barna's knack for capturing his own deeply personal nostalgia resonates in a rarely universal way.