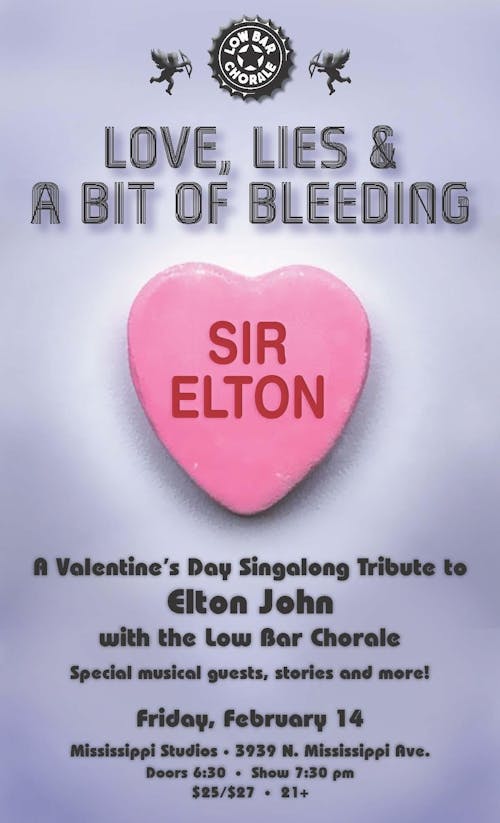 Low Bar Chorale Presents A Valentine's Day Singalong Tribute to Elton John
Love! Lies! And a Bit of Bleeding!
Mississippi Studios
_
MOSTLY STANDING / LIMITED BALCONY SEATING
DOORS 6:30PM / SHOW 7:30PM
$25 ADV / $27 DOS
THIS EVENT IS 21+
VALID U.S. ID OR PASSPORT REQUIRED FOR ENTRY
________________________________________________________________________
Low Bar Chorale
Let Sir Elton John Help You Win Your Valentine's Day
February 14, 2020. Want to tell someone they're your Tiny Dancer? Done! Need to dump your sweetie? Let Sir Elton's words do the talking! Come to Love! Lies! And a Bit of Bleeding! A Valentine's Day Singalong Tribute to Elton John with the Low Bar Chorale. The singalong show is a celebration of Elton John's best songs on love and loss (the lies and bleeding part), plus special guests, stories and audience participation. Guest musicians include Ashleigh Flynn, Don Henson (Sneakin' Out) and many more to come.
About the Low Bar Chorale
The Low Bar Chorale is Portland, OR's rock/alt-indie bar-based singalong answer to vocal angst. Think music version of Bar Trivia Night: no commitments, auditions or membership, just singing. It's a fun, no-experience-needed chance to sing your feelings with a live band of touring musicians who are just loud enough that no one will actually hear YOU. Covered artists include a range of pop, rock and alt/indie such as Radiohead, Daft Punk, The Cure, the Fleet Foxes, Lady Gaga, and Lil Naz X/Billy Ray Cyrus.
LBC offers people a chance to sing with musicians from bands like Blind Pilot, Brandi Carlile, the Eels, Pink Martini and Todd Rundgren's Utopia. It's kind of like Fantasy Sports Camp, but with musicians.
Shows include the annual holiday singalong Cheer the F**k Up, a Jesus Christ Superstar Sing- and an all-ages Prince tribute to Purple Rain in Portland's Pioneer Courthouse Square (2,000 in attendance.) Low Bar also tours, turning crowds into bands, from Sauvie Island to Sisters.