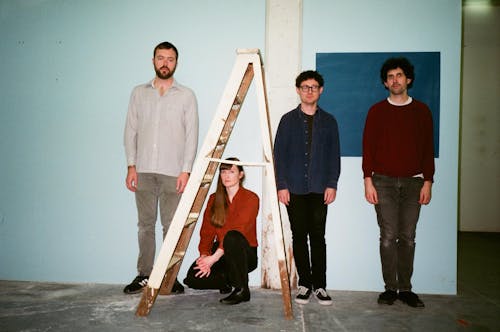 Angular Portland punks with urgent and melodic 2018 LP 'Mating Surfaces'
Lithics
Sun Foot, Collate
Mississippi Studios
Sun Foot & Collate
MOSTLY STANDING / LIMITED BALCONY SEATING
DOORS 8PM / SHOW 9PM
$12 ADV / $14 DOS
THIS EVENT IS 21+
VALID U.S. ID OR PASSPORT REQUIRED FOR ENTRY
________________________________________________________________________
Lithics
Lithics is a four person minimalist punk band from Portland, Oregon formed in late 2014. Over the last year and a half they have refined a sound focusing on interlocked bass and drum rhythms paired with shrill guitar counterpoint and stark female vocals. While counting Wire, The Fall, Devo, Pylon, The Shadow Ring, and Captain Beefheart's Magic Band as reference points, the band's concerns are contemporary and urgent. An injection of uptight, nervous energy into the reverb drenched complacency of today's musical underground.
"...basically the stuff of my post-punk dreams, with needles-and-pins guitar lines jabbing and competing for space with minimalist, meditative bass/drums synchronization and coolly detached female vocals that drift somewhere between the twin inspirations of Allison Statton of Young Marble Giants, and Vanessa Briscoe of Pylon. Throw in some hair-raising neo-no wave scratches and scrapes of six string across the otherwise steady and taut rhythmic throb of 'Lizard' and 'Seven People' and you've got a band who should be making all the weirdo art-punk kids drooling over that CCTV single similarly lose their shit, if they know what's good for them." - Erika Elizabeth, Maximum Rock 'n' Roll #392.
Sun Foot
Portland Los Angeles 3 piece who play low volume tunes through small amps and a drum set that consists of a hand drum, cymbal, pan lids, and electronic drum pad, all three singing, playing random cheap electronic keyboards maybe, and switching of instruments probably. Good to listen to if you are interested in the sun and tired of negativity. Sun Foot (Ron Burns [Smog, Hot Spit Dancers, Swell], Chris Johanson [the painter, The Deep Throats, Tina Age 13], and Brian Mumford [Dragging an Ox through Water, Jackie-O Motherfucker, Thicket, Jewelry Rash]).
Collate
American post-punk / indie rock band from Portland, Oregon.