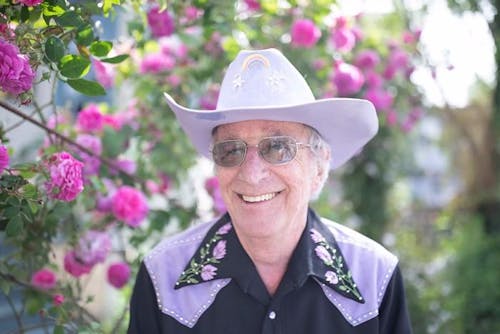 Subversive, inspiring sounds from the world's first openly gay country band
Lavender Country
Ashleigh Flynn And The Riveters
Mississippi Studios
Ashleigh Flynn And The Riveters
MOSTLY STANDING / LIMITED BALCONY SEATING
DOORS 7PM / SHOW 8PM
$10 ADV / $12 DOS
THIS EVENT IS 21+
VALID U.S. ID OR PASSPORT REQUIRED FOR ENTRY
________________________________________________________________________
Lavender Country
While Lavender Country were little known outside the Pacific Northwest and only released one self-distributed album, in their time they created a genuine cultural milestone -- the first collection of openly gay-themed country songs. Lavender Country were the brainchild of Patrick Haggerty, who was born and raised in Dry Creek, a small rural community near Port Angeles, Washington, where his parents were tenant dairy farmers. While Haggerty's family was always short on money (in part because he had nine siblings), when he was nine his father gave him a $25 guitar, and Patrick taught himself to play. Haggerty grew up listening to country music on the radio, and was particularly fond of Hank Williams, Patsy Cline, and Eddy Arnold; when he was a teenager and the folk revival of the late '50s and early '60s swept the nation, Haggerty began performing folk songs at coffeehouses and talent shows. From an early age, Haggerty knew he was gay and made little secret of it; his father, remarkably understanding given the time and place, told his son, "Don't sneak...if you spend your life sneaking, it means you think you're doing the wrong thing...so whoever you run around with, don't sneak and be proud of it." As a consequence, Haggerty struggled to be open with his homosexuality at a time when it was not accepted, and after graduating from college, he joined the Peace Corps in 1966, only to be kicked out when his sexuality became known (Haggerty had switched rooms at a dormitory in India when he admitted to his first roommate that he was attracted to him and found it too distracting).
In 1970, Haggerty moved to Seattle, only a year after the Stonewall uprisings in New York City launched the gay liberation movement, and he became involved with Gay Community Social Services of Seattle, one of America's first such organizations for the LGBT community. Haggerty was writing songs that reflected his own experiences as well as the political and social concerns of the gay community, which led to him forming the band Lavender Country in 1972, with Haggerty on lead vocals and acoustic guitar; Michael Carr on piano; Eve Morris on violin, guitar, and vocals; and Robert Hammerstrom (the group's only heterosexual member) on lead guitar and Dobro. While the music reflected Haggerty's love of country and folk music, the lyrics were strongly political, while also speaking without shame about love and sex. The group started playing regularly at political rallies and gay pride events in the Northwest and up and down the West Coast, and in 1973, Lavender Country booked time at a recording studio and cut a ten-song, self-titled album with the assistance of GCSSS. Unfamiliar with the nuts and bolts of record distribution, Lavender Country distributed the album to gay and lesbian bookstores, and placed mail-order ads in gay newsletters that were popping up around the country.
In time, Lavender Country sold out its initial pressing of 1,000 copies, but the group never pressed a second edition, and despite the commitment of Haggerty and his bandmates to the cause, the group never became a commercial success. Lavender Country effectively broke up in 1976, though they reunited occasionally as late as 1979. Haggerty remained an activist and pursued a career in social work, while continuing to make music in his spare time with various collaborators. In 2000, the Journal of Country Music published an article of gays and lesbians in C&W that cited Lavender Country as the first gay-themed country LP; the recognition led to a limited CD reissue of the album, and a few shows from the original lineup, including a special performance at Seattle Pride in 2000. The original album was included in the archives of the Country Music Hall of Fame, and in 2014 Lavender Country was given a new release by the indie label Paradise of Bachelors, which included a 30-page booklet featuring extensive liner notes and a new interview with Haggerty.
Their song "Cryin' These Cocksucking Tears" was included in the 2012 compilation album Strong Love: Songs of Gay Liberation 1972–1981. The 1973 album was rereleased on independent label Paradise of Bachelors in 2014, and the band have played several reunion shows in 2014 to support the reissue.
Haggerty recorded a story for StoryCorps about coming out to his father in 1959, which was adapted into the animated short film The Saint of Dry Creek in 2015. In 2016, director Dan Taberski directed a short film titled These C*cksucking Tears which starred Haggerty and told the story of his life and career.
In 2017 and again in 2019 Robert Dekkers' Post:Ballet company staged a modern ballet performance of Lavender Country, choreographed by Vanessa Thiessen and performed at the Z Space theater in San Francisco with Patrick Haggerty performing live with a new Lavender Country band featuring guitarists Dennis Fortin and Mark Newstetter, violinist Calvin K. Murasaki, Mya Byrne on bass, James Wilson on piano and Joyce Baker on drums.
In 2019 the band released Blackberry Rose and Other Songs and Sorrows, their first full-length album of new material since 1973.
Ashleigh Flynn And The Riveters
Like the Ohio to muddy Ol' Miss, Ashleigh Flynn follows her troubadour heart. Flynn grew up in Kentucky and cut her teeth on local bluegrass music and Motown. A prolific songwriter and performer blessed with unbridled charisma, she has taken the stage at Bonnaroo and Bumbershoot, Delfest, High Sierra and Vancouver Folk Fest and toured with the likes of Todd Snider and the Wood Brothers.
Thanks to two critically acclaimed independently released studio albums and a live EP, Flynn is making a name for herself in Americana music. She arrived on the scene in 2008 with the release of American Dream, a poetic lament to the elusiveness of that national ethos. A Million Stars followed in 2013 – a rollicking journey celebrating the women pioneers of the American West. Her most recent EP, The Low Arc of the Sun, 2016, was recorded live on the winter solstice in Portland, Oregon as an offering to the coming of the light.
With a fresh slate of songs in her arsenal, Flynn returned to the studio in 2017 to develop a bold new project: Ashleigh Flynn & the Riveters. In both name and spirit, this all-female band is a nod to the "Rosie the Riveter" archetype and an homage to the millions of American women who entered this country's maledominated workforce during World War II and kicked some serious ass.
The record's 11 tracks feature Flynn's compelling brand of storytelling and soulful vocals, amped-up and virtuously enveloped by the electrified Riveters. Inspired in large part by her new guitar player Nancy Luca's style and skill, the album hearkens back to early Stones and '70s psychedelic country rock, yet the result feels simultaneously new and necessary. Produced by Flynn's longtime musical collaborator, Chris Funk of the Decemberists, this highly anticipated LP was recorded and mixed at Halfling Studios in Portland and supported by grants from the Oregon Arts Commission and the Regional Arts and Culture Council.