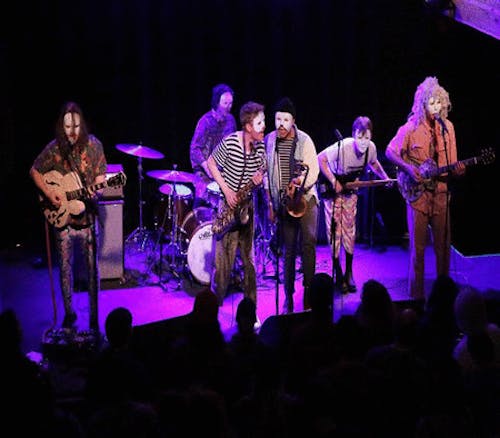 Kulululu
Nasalrod
Wave Action
DOORS 8PM / SHOW 9PM
$5 ADV & DOS
THIS EVENT IS 21+
VALID U.S. ID OR PASSPORT REQUIRED FOR ENTRY
Kulululu
Kulululu has traveled long and far to finally arrive on earth. While here, Kulululu is in search of the answers to the questions; why? and why not? You may not understand what they are saying. You may not understand why they look the way they do. They may not understand these things either. What's important is that time is continuous, and without it we cannot find our way back to where we started.
Nasalrod
Described by The Deli Magazine contributor Tracy Mamoun as "surprising, experimental, and fun like rock n' roll should be," Nasalrod is a collaborative vision. The intensity of drummer Spit Stix (a founding member of the seminal L.A. punk band FEAR) is a major driving force behind the Portland quartet.
"The genre police will never close the case on Nasalrod. You can't call them punk because you'd be selling them short. They don't play noise rock because their songs have structure, even a dance-ability at times. You could almost call them a pop band, but they're way too heavy and aggressive. They're a band of musical masterminds that can't be caught."– Aris Wales, The Portland Mercury
Nasalrod's rst 12" release, Building Machines, opens with the urgent riff of Wage Slave, a frenetic yet tuneful song about the tragicomic daily grind. An off-center concoction of contorted guitar gures and shape-shifting rhythms quickly add fuel to the re, setting the pace for this full length vinyl debut.
Named after the bone in Screamin' Jay's nose, Nasalrod has found that originality and insanity can go hand in hand. Lead singer Chairman's sneering, kooky yet soulful vocals soar over a sound that is simultaneously melodic, violent and convulsive. Spit Stix, guitarist Mustin Douch, and bassist Mandy Morgan (formerly of Recess Records band Berzerk) provide a sonic backdrop that is the twisted and theatrical heart of Nasalrod.
Armed with their notoriously frantic live show, Nasalrod has shared stages with Mike Watt, Toys That Kill, Torche, and Melt-Banana. In October, the band will begin by performing regionally, and then expand the tour dates nationally throughout 2018 in support of Building Machines.
Wave Action
Wave Action is the O'Brien twins with their favorite Jon Huteson. Born in sheds gleaming from life's vicissitudes. Rock and roll, go surfing, peace and love.