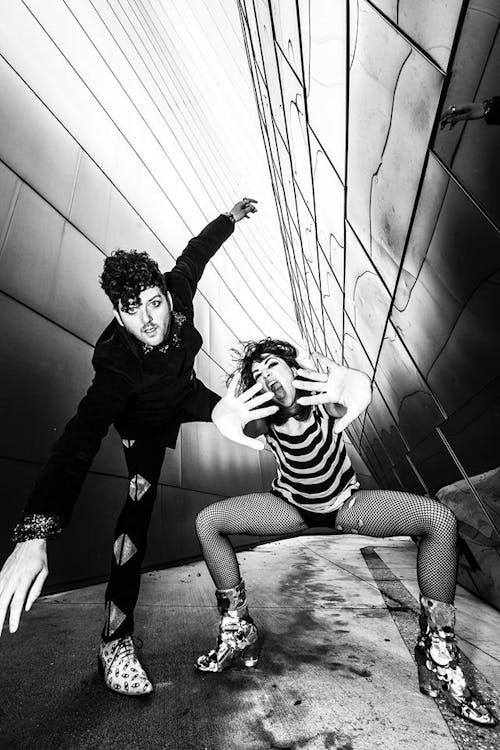 LA-based "Space-blues/glamabilly" duo with incredible live show
KOLARS
Dear Boy
Mississippi Studios
Dear Boy
MOSTLY STANDING / LIMITED BALCONY SEATING
DOORS 8PM / SHOW 9PM
$13 ADV / $15 DOS
THIS EVENT IS 21+
VALID U.S. ID OR PASSPORT REQUIRED FOR ENTRY
________________________________________________________________________
KOLARS
"A Superb Punch Of Musical Bliss." - Time Out
"KOLARS are as if T-Rex and the Pixies had a love child who was born tap dancing on a drum kit and with a no-shits-given punk aesthetic." - Underground London
KOLARS is one of those rare acts which descends from another dimension, struts its sequin skin, blares it's unabashed musical thrill ride and leaves audiences with their mouths on the floor.
Rob Kolar twists and turns as he sings imaginative lyrics with a raw swagger. He spins his guitar as notes sail and scramble through the room. A presence that embodies elements of Elvis and Marc Bolan with a ragged punky edge. The magnetic, one of a kind, Lauren Brown uses her whole body as a percussion instrument, tap dancing rhythms with her feet while simultaneously playing a full stand up kit with her arms. An alluring hybrid of Mo Tucker and Gene Kelly with a dash of Iggy Pop wildness.
Yes, there have been iconic duos before but none like this.
On record KOLARS are slightly more subtle and nuanced. Rob produces and mixes the music and has created a genre melding soundscape influenced by his film scoring. The band has inspired evocative descriptions such as "space blues," "glam-a-billy" and "desert disco." The style combines elements of new wave, blues, pyschedelia, glam, folk, disco and punk. The production experiments are infused into the live show. In essence, the duo are a hybrid of modern technology and raw rock and roll.
KOLARS have toured extensively across the US, Canada and Europe, playing many festivals and concerts in front of thousands. They have headlined national tours and have shared bills with Spoon, LP, Julian Casablancas & The Voidz, STRFKR, The Kills, Best Coast, Shonen Knife, RZA, Pussyriot, Built To Spill, The Horrors, The Growlers, Alanis
Morissette, Funkadelic, The Revivalists, Father John Misty, The Roots, Nikki Lane, Strawberry Alarm Clock and many others.
They have built their momentum through hard work and tenacity, growing their following one fan at a time. They tour relentlessly and do much of the work themselves. The husband and wife duo treat the business like a growing mom and pop startup. Rock and Roll with an entrepreneurial spirit.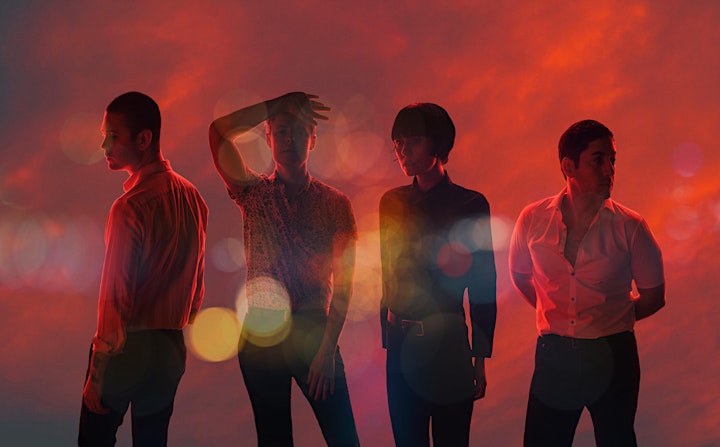 Dear Boy
Dear Boy had an immense 2018. They were hailed as one of the best indie bands in Los Angeles by critics and music publications, sold out multiple hometown shows, embarked on a full US tour w/ Rogue Wave, while also playing dates w/ Day Wave and Sunflower Bean. They started 2019 sprinting with the release of "The Strawberry EP" via the band's own label Easy Hell and Burnside/The Orchard, out now and have been spending their summer touring with icons The Psychedelic Furs and James. 
Wasting no time after the EP's release, the band immediately dove back into the studio to record a brand new stand alone single called "Heaven Moves." Once again produced by the band and mixed by Tony Hoffer, and the song also features some additional production from Jackson Phillips of Day Wave and Hunter Burgan.  
"Heaven Moves is a song about undying love and the unique spirituality that exists within that,"  says singer Ben Grey. "We had just finished writing a full length record before this song came along... It didn't completely fit with the others, so we leaned into modernity and just decided to record and release it. I think it's a fitting bridge between The Strawberry EP and what's coming next from us.
"The four band members and real life friends that make up Dear Boy (vocalist Ben Grey, guitarist Austin Hayman, drummer Keith Cooper, and bassist Lucy Lawrence) have made something that is deeply personal, while celebrating their city and challenging the direction of modern guitar music… showcasing the band's ability to craft bittersweet songs pulling from late 70's / early 80's Post-Punk and early 90's Britpop, large enough for arenas, but intimate enough to be with you during your most private moments.