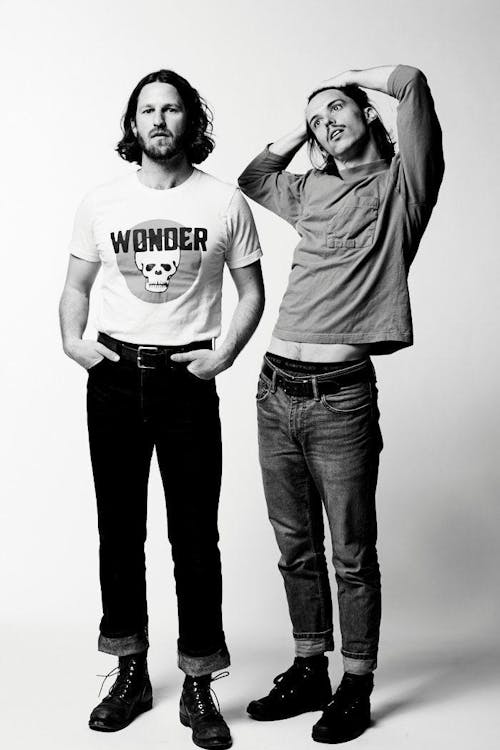 Virginia-based, sunny indie-rock duo with folky and infectious hooks
Illiterate Light
Shane T
Mississippi Studios
_
Illiterate Light
Illiterate Light's swift come-up belies some humble roots, as they've gone from touring the mid-Atlantic on bicycle to being signed by Atlantic Records. In the meanwhile they've been grinding it out on the road, wowing audiences as they've opened for Mt. Joy, Shakey Graves and Rayland Baxter. Earlier this year, they self-released their debut Sweet Beast EP, and they are putting the finishing touches on a debut full length with Vance Powell (Jack White, Kings Of Leon, Chris Stapleton) and Adrian Olsen (Foxygen, Natalie Prass) — more details on that coming soon.
Formed in the summer of 2015, Illiterate Light transcend expectations of typical rock music through their limitations as a duo. Jeff Gorman elevates his gritty guitar melodies and honest lyricism by stomping out thunderous synth bass with his feet as Jake Cochran layers lush vocal harmony and explodes with body convulsing energy around his minimalist standing drum kit. Gorman and Cochran's incessant writing, commanding live performance, and constant touring promise a bright future as they finish their debut album with Vance Powell (Jack White, Kings of Leon, Chris Stapleton) and Adrian Olsen (Foxygen, Natalie Prass). "Better Than I Used To" is the first taste of what's to come from Illiterate Light.
Spanning the better part of a decade, the creative evolution between Gorman and Cochran is far from ordinary. The duo has run an organic farm in the Shenandoah Valley, toured the mid-Atlantic in bands by bicycle, and lived in small communities while pursuing modes of alternative education. Their eclectic background is mirrored in their sound and lyricism, floating between postmodern confusion and vibrant optimism. Though shaped by the DIY music scene of their hometown Harrisonburg VA, the duo has grown immensely through immersion in the thriving communities of both Richmond, VA and Nashville, TN.
Shane T
With influences ranging from his degree in Economics to his love of David Lynch films, Shane T has quickly carved out a place of his own in the Indie-pop landscape. His debut EP "Holy Nights, Bad Advice" centers around his mid-twenties coming of age story and the poignant yet often humorous commentary that accompanies it. Recorded in Nashville with an iPhone drum machine app and an array of salvaged Goodwill organs, the six song EP highlights Shane's uniquely warm tenor vocals and minimalist approach to songwriting.