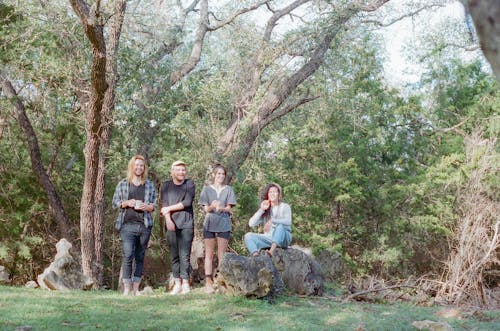 Austin, TX cathartic, mathy folk-pop with shimmering 2019 LP, 'Mahal Kita'
Hikes
Childspeak
Mississippi Studios
_
MOSTLY STANDING / LIMITED BALCONY SEATING
DOORS 7PM / SHOW 8PM
$10 ADV / $12 DOS
THIS EVENT IS 21+
VALID U.S. ID OR PASSPORT REQUIRED FOR ENTRY
________________________________________________________________________
Hikes
Hikes is a band of friends formed in 2010.
Born out of true friendship and an aptitude for healthy catharsis, Austin's Hikes anchored by the technical, emotive songwriting of Filipinx naturalist Nay Wilkins honors the love found in tight communities. Hikes' upcoming full length, 'Mahal Kita,' is the Tagalog term for "I Love You."
As Nay's mother's native language, the album is dedicated to the unrelenting will to make it through trauma while retaining the empathy and compassion that Nay learned from their Mother, and how Hikes is the vessel for implementing those ideals. The album follows the spectrum of hardships throughout the two years leading up to it and follows suit dynamically: from the ethereal pop opener of the album, reintroducing member Claire Puckett (Mother Falcon), to 'extra mile'; featuring the bombastic technical prowess of long running members Colin Jenkins (Bass) and Chris Long (Drums), as well as marimbas from The Kraken Quartet.
Lilt, the group's previous album recorded in Tokyo with Takaaki Mino (Toe), offers a wealth of interwoven guitar work, dense lyricism, and a pulsing rhythm section. Recounting Wilkins nearly losing their dad, losing touch with nature, memories of a missing best friend, and everything in between, Lilt is experimental indie rock bursting with a humbled hopefulness. The album took the band to a world audience; selling out shows across Japan, Europe, and the U.S. With the original quartet reformed and the band sitting on this new LP, you can expect to see Hikes in one of its many forms coming to a city near you.
Childspeak
EUG/PDX Post-Prog-Math
After their independently released 2015 debut Day Dream Sparkle Party, the band had earned some attention in the Eugene, Portland, and Seattle scenes. The album was recorded at Dead Aunt Thelma's in Portland, and through constant gigging and promotion, the record found a quirky, proggy place in the hearts of hundreds of quirky, proggy fans.
The fans witnessed a transformation however, as lineup changes resulted in an even stronger sense of focus and urgency, and Childspeak's sound grew larger and louder over time.
As the band refined material for their next album, drummer T.J. Martin-Lokey met with engineer extraordinaire Marcel Fernadez. His name can be found on records from Foo Fighters, Chevelle, Avenged Sevenfold and Zeta, with mentors like Joe Baresi and Eddie Kramer, two of the most trusted masters of rock recording. After discovering the two had some mutual friends and common ground on the drums, they discussed making an album together at some point.
And then, much began to move so fast it became a blur.
The band recorded their new album with Marcel at Robert Lang Studios in Seattle, where albums from Nirvana, Foo Fighters, and Soundgarden were recorded and now hung in frames throughout the halls. The band started booking shows and tours with acts like Giraffes? Giraffes!, Hikes, Gazelle(s), This Patch of Sky, and King Crimson side-project Stick Men. They also started playing various music festivals like The Portland Crawfish Boil, Treefort, NW Post Rock Fest, and Whiteaker Block Party. The energy the band was generating was slowly starting to form its own gravitational pull.
Within seconds, you can hear tension coiling tightly, threatening to explode in the Mars Volta esque opener, "Alligator Ballet." Disembodied mashups of bible speech and restless tape loops narrate scenes like ghosts selling antiquated riddles across the albums 40 minute-landscape.
Fusion, post-rock, math-rock, and heavy jazz are just a few of the genres Childspeak borrow from on their new album. Bassist Derek Sibert weaves thick, intricate melodic lines throughout, bordering on funk, prog, and shoegaze all at once on songs like "It'll Happen," and "KJR." The telepathic interplay of guitarists Bri and Miguel on "Bottomless" plays like light in water; constantly trading parts like twins raised on a steady diet of epics from bands like Explosions in the Sky, and Deftones, but with a bit more sugar in their diets.
But the writing, recording, and releasing the album was anything but simple.
In one of several bizarre-yet-fortuitous accidents, drummer T.J. Martin-Lokey almost considered recording all the drums with a single arm, the other having been broken just days before entering the studio. Luckily, they found a way around it, recorded the album backwards (guitars, bass, drums, respectively) and when he returned to the studio at full capacity, he was able to take advantage of the historic drum tones only available at Robert Lang Studios. Beefy, Bonham-esque drum sound abounds in songs like "Vampires at Sea," "Endearing Endeavors," and the most forward of the group, "Fillet, Move On," which opens with a percussion section courtesy of Marcel.
"At the end of 'Fillet,' I told Marcel that I wanted there to be mountains, deep in a forest, and as you get closer to them they get louder and louder, and then they start to lift off the ground and you see they're giant spaceships, and I want them to circle around above you in the sky in the speakers. And he nailed it." -Bri
"You should have seen him. The way he took the resonance from the toms in the drum room and collided them with each other on the monitors, and threw them through a filter, following Bri's words… it was like being on an actual spaceship, really." - Miguel
As mixing drew to a close, the band chose Ed Brooks (Pearl Jam, Minus the Bear, Botch) at Resonant Mastering as the albums Master Engineer.
"His portfolio covers an incredible amount of ground and we think his ingenuity and ear for nuance will really help focus what made this record special. There are just some magic moments that only Marcel and Nick (Greene, assistant engineer) could have captured at Robert Lang, and we wanna make sure you hear them," it says on the band's Facebook page.