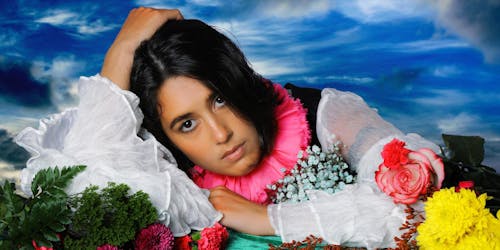 NY-based swirling, moody electro-pop with 2020 LP, 'The Caretaker'
Half Waif
Mississippi Studios
---
The Half Waif show at Mississippi Studios on May 16, 2020 is rescheduled to October 17, 2020. All tickets for May 16, 2020 will be honored on October 17, 2020.
ALL SALES ARE FINAL. PLEASE, DOUBLE CHECK YOUR ORDER BEFORE PURCHASING. NO REFUNDS.
MOSTLY STANDING / LIMITED BALCONY SEATING
DOORS 8PM / SHOW 9PM
$14 ADV / $16 DOS
THIS EVENT IS 21+
VALID U.S. ID OR PASSPORT REQUIRED FOR ENTRY
________________________________________________________________________
Half Waif
Nandi Rose is on her own again, and three songs into her forthcoming album The Caretaker, the singer, songwriter and producer declares her fearlessness: "Baby don't worry about me, I don't worry about you." The words fall away from her breathlessly, unfolding with grace and force: "I've got places in my mind that I'll never find if you're holding my hand like you always do." Here, on "Ordinary Talk," Rose meditates on the heaviness of ordinary moments, the constellation of tears and chores and self-doubt and small talk that comprise being a person, accompanied by her most cinematic, pulsing arrangements to date.
It's an apt introduction to The Caretaker, a vessel for Rose's stories and observations that negotiates the space between working alone and with others, between isolation and connection. The result is her boldest work yet. For Half Waif, The Caretaker is a statement of intent in high resolution, a deliberate move from the obscured, muted mystery of her previous work. And there Rose is on the album's cover—her sharp image before a brilliant blue storm, staring you right in the eye.
An eleven-song journey through mind, memory and home, The Caretaker finds Rose astutely observing inward and outwardly, picking apart what it means to take care—of herself, partners, friends, family—and the shared pain that comes with that. The utterly crushing "In August" circles on the harsh fade of a crumbling friendship and the particular type of pain that comes with it. "I have lost your friendship / what does that say about me?" wonders Rose over a spare chord progression. Amid slowly swelling layers of synths and drum machines, her elastic and expressive voice shifts and takes off towards soaring and searching falsetto, as she grasps for meaning in turmoil.
The more bittersweet side B is made of candid, slow-burning piano ballads that chronicle the passing of time. Rose's voice sometimes sounds like a choir of one, like on "Blinking Light," where she self-harmonizes in a billowing cloud of her own voice. "Blinking light in the black hills / if this doesn't change me, nothing will," she wonders. "But give me 'til the end of June. / I'll be better with the weather." Time slips by, mistakes are internalized, messages go unread. Relationships dissolve. She bids goodbye to her 29th year.
The Caretaker follows Lavender, Rose's debut, named for the lavender that once grew in her grandmother's garden. And on her most recent collection, Rose's family history and intergenerational stories continue to seep their way into the songs. "There's a family legacy of losing and seeking homes, a theme that has followed me," she reflects, pointing to her mother's journey as an Indian refugee from Uganda and her grandmother's displacement from Lahore after the partition of India. "Growing up, being half-Indian was a point of pride for me. It made me feel different in a good way," adds Rose, who was raised surrounded by the Berkshire mountains in Williamstown, Massachusetts.
"Generation" in part is an ode to her family and lineage; its lyrics are partially inspired by a poem that Rose's father wrote for her, which hangs on the wall in her studio where the record was written. Also on that wall: a photograph of Joni Mitchell, looking vulnerable and strong, and another of Rose's smiling grandmother that she looked to for energy while recording vocals.
While Lavender dealt with wider views on life and death, of endings and apocalypses, terror and tragedy, The Caretaker focuses the telescope inward, grappling with her desire for independence and the knotty reality that we need each other. "The Caretaker is much more about smaller minutiae of relationships and how so much humanity ispacked into some of our most mundane moments," she says, deliberately placing each word. "The most ordinary things bring us together. And that in itself is extraordinary."
While her previous full-length was arranged and produced with a band, The Caretaker was an endeavor of solitude. Rose wrote and arranged its entirety before bringing co-producer David Tolomei into the process to sharpen the sounds, tracking upright bass, violin, flute, piano, and bass clarinet at The Clubhouse in Rhinebeck NY, and lushanalog synths at The Synth Sanctuary in New York City. The result is that Rose, as Half Waif, has never sounded more like herself. By the end of writing the record, though, the perspective she was writing from didn't quite feel like her own anymore, but more like someone she used to be, another person altogether: "I kind of created a character. She's someone who has been entrusted with taking care of this estate, taking care of the land, and she's not doing a very good job. The weeds are growing everywhere, and she's not taking care of herself." For Rose, the character of The Caretaker serves as a kind of warning of who she could become if she's not more vigilant.
The story came together for her while sitting on the back porch of her countryside home, an old house that's reminiscent of her recently destroyed childhood home. She stared at its big, overgrown yard and listened to its summertime sounds: the bugs buzzing, the train rolling by. She captured field recordings for the album, adding them to the dark, swirling sounds. This is the world of The Caretaker—a dense, humid summer night. It's when Rose says she's "her best self."
Rose begins The Caretaker disillusioned and longing for clarity, but by the album's end she has found something better: "It's hard to believe, but I'm finding my way," she sings matter-of-factly on album closer "Window Place." It's a resilient type of healing that sounds mature and assured in its wandering, like a moment of peace.
Katie Gately
Following remix work for Björk and Zola Jesus, productions for serpentwithfeet, and her debut album on Tri-Angle, American experimental musician and producer Katie Gately moves to Houndstooth for her sophomore album Loom, dedicated to her mother, who passed away in 2018. "My mother's voice is in this record, her picture's in the sleevenotes. This record is for her" says Katie.
Katie's mother was diagnosed with an extremely rare form of cancer shortly after seeing Katie perform for the first time, and Loom was made during her mother's illness. To solidify the enormity of a loss like this, Gately has added the seismic rumble and aural grit of real earthquake recordings in her productions – alongside her signature adventurous sound design and earwormy melodies – to signify how grief like this is like the shifting of the earth. "I felt like my world was being shaken," says Katie. "I was losing the person who created me, and it seemed an appropriate time to sample earthquakes."
Where her debut album Color, (2016) deployed fractured rhythms, fierce licks, bold samples and her signature paintbox pop hooks, Loom reveals crepuscular textures. Her voice is more forward in the mix, often densely layered in choral laments above a coarse foundation of hard and brittle sound design, the latter of which is rooted in her film school training. As well as earthquake sounds, Loom includes more samples, chosen for their associative power, peacocks screaming, pill bottles shaking, a coffin closing, wolves howling, a shovel digging, a paper shredder, stone grinding and heavily processed audio from her parent's wedding.
At the time of her mother's diagnosis, Katie was near completion of an entirely different album, but says that very quickly she realized she "didn't have the bandwidth to make that record anymore." She returned from LA to her family home in Brooklyn and started again, completely rebuilding the album around the track 'Bracer', which was her mother's favourite. She made it while she couldn't sleep, and the result is a record she says is powered more by heart than mind, with sucker-punch richness and keening vocals that are unflinching. "The process is blurry to me now," she says. "I don't know if I'd recommend it, but I didn't have time to worry about perfecting things, I was just working when everyone was asleep – it was the only time I had."
Her lyrics are rooted in the events she was experiencing, but describe personifications and abstracted feelings. 'Flow' is written from the perspective of her mother; in 'Allay' she speaks as the cancer; in 'Tower' she inhabits the medicine that confronts the cancer. "They're darker in tone," she explains, "but I see beauty in that."
'Waltz' and 'Bracer' are tracks she describes as being like a brother and sister: "They're about the same thing, about being disoriented and wanting to check out with a substance – I used whisky." 'Waltz' spins in on itself, whereas 'Bracer' reaches for a series of climaxes that drop out before they can peak.
The three interludes, 'Ritual', 'Rite' and 'Rest' are a triptych that carve out light and space to breathe – sometimes synthesizing sounds like exhalations – between the density of other tracks. They are spliced sections of one longer track, with 'Rest' closing the album. "When my mother passed I ate doughnuts and slept for a month," she says. "The pressures from the music industry just fell away – release schedules and the like just didn't matter any more. But a callous had to be formed, so after that I finished the record, and it was done by the beginning of 2019."
Katie has also released 12"s and a cassette on a number of notable underground labels – Public Information and Blue Tapes, as well as the critically acclaimed FatCat Split Series. This summer Katie was part of the recent Mary Anne Hobbs curated 'Queens of the Underground' Festival in Manchester alongside Houndstooth musician Aisha Devi. She is currently living in LA and teaching at CalArts.