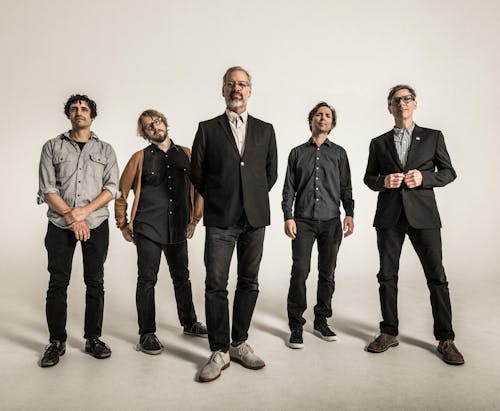 Inventive power-pop group with members of The Decemberists & Malkmus/Jicks
Eyelids
Talkin' To Johnny, Zebra Hunt
Mississippi Studios
_
MOSTLY STANDING / LIMITED BALCONY SEATING
DOORS 7PM / SHOW 8PM
$12 ADV / $14 DOS
THIS EVENT IS 21+
VALID U.S. ID OR PASSPORT REQUIRED FOR ENTRY
________________________________________________________________________
Eyelids
When acclaimed poet and former Tim Buckley collaborator Larry Beckett first offered Chris Slusarenko and John Moen of Eyelids to write new lyrics for their next record as well as giving them access to his words from the last four decades, the musicians weren't sure Eyelids soaring brand of guitar driven rock would jibe with someone else's lyrics (including a song that was written with Buckley). "It was Larry's trust in us that really caused us to think we should do it," Moen says. "When someone like that is into your work to the degree they want to collaborate, it definitely feeds your confidence."
On The Accidental Falls Portland, Oregon's Eyelids, one of rock's best-kept secrets, step firmly out from the considerable shadow cast by the band members' second-to-none pedigrees earned from time spent in Guided By Voices, The Decemberists, Stephen Malkmus and Elliott Smith's bands. Produced by REM iconoclast Peter Buck who also plays on the record with Tucker Martine (Decemberists, My Morning Jacket, Neko Case) and Heba Kadry (Deerhunter, Bjork) who mixed and mastered the record respectively.
The Accidental Falls features a bountiful cacophony of gorgeously shimmering riffs and songs so delectably crafted that all who value the electric guitar (three to be exact) as a source of pure joy. Created with long time members, Jonathan Drews (guitar), Jim Taltstra (bass) and Paulie Pulvirenti (drums), Eyelids' fourth album finds the outfit as both stewards of a classic sound (Alex Chiltonites and disciples of early REM or later XTC will fall hard for this project) and accomplished artists propelling their craft to thrilling new heights. Their first record was released in the UK by Tim Burgess and the band toured the UK previously with their friends, Drive-By Truckers.
Slusarenko's relationship with Buck goes back to 1983 when REM fanboy Chris wrote Peter a gushing letter that Buck answered, leading to a meeting in '84, displaying how full circle things have come for the songwriter and guitarist. The magic of being fated to find one of your heroes producing your record a half a century later isn't lost on Slusarenko. "Peter has always been amazing for us. Having your hero become a friend and collaborator is such a dream and does so much for the band," the guitarist says. "Even though we've been working together for years now, sometimes you look up in the studio and think 'Holy shit, we've got Peter Buck working on our record.'"
As they typically write the music first and add lyrics later, Beckett's compositions allowed Eyelids to wholly focus on the music and the result is stunning. Already the band's trademark, the delectably shimmering guitar playing on The Accidental Falls is utterly spellbinding and deeply imbued with joyous emotion—rock n' roll as catharsis.
The Accidental Falls sees the band expound upon that sound and push it to new heights. The paisley psychedelia of "Dream" and "River" provide a perfect sonic palette cleanser to the cacophonous crashing of drums and guitars the peaks of songs like "Ceremony" and the Elliott Smith-indebted "Monterey" provide. The Accidental Falls casts a hypnotic spell over the listener and triumphantly reminds us, hearts fully on sleeves, why we fell in love with rock n' roll in the first place.
Talkin' To Johnny
Hailing from Portland, OR, Sallie Ford's got a voice like no other, and her new project Talkin To Johnny finds it at its rawest and most powerful yet.
A hard rocking trio, Talkin' To Johnny features Maria Kohler on guitar (aka hip hop / r&b artist Kitty Crimes), A Walker Spring on bass (Bitch'n, Point Juncture, WA) and Sallie singing from the drums – a switch-up that has unleashed a new depth of emotion in her early metal & punk inspired songs. She's long been commanding the stage with Sallie Ford & The Sound Outside, but TTJ proves, this rock royal also belongs on the (drum) throne.
Debut EP coming out soon.
Zebra Hunt
Keeping up the previous two-year gap between records, spring 2019 brings Zebra Hunt's new album, titled "Trade Desire".
The Seattle four-piece received much praise in 2017 for "In Phrases", an LP that led to a nine-date tour of Spain in July of that year. Excited and energized by the great response during that trip, they returned to the Pacific Northwest and over the next months started to work on a new set of songs at rehearsals and the occasional show.
If there is a theme to "Trade Desire", it might be "Finding comfort and confidence". When it was time to record it, the band decided to return to the same person, Robert Comitz, who recorded their first album, "City Sighs". They have an easy time working with him, so it felt very comfortable. The mastering was done by Mikey Young.
There is a familiarity in the sound Zebra Hunt are known for in some tracks but they also had the confidence to explore new territories. Although their main influences remain (the shimmering pop of The Feelies, the Flying Nun legacy and the Paisley Underground scene), they challenged themselves to discover new approaches in composition and feel. After playing together as a four-piece for nearly four years, the band sounds like it's fully glued together on this recording.