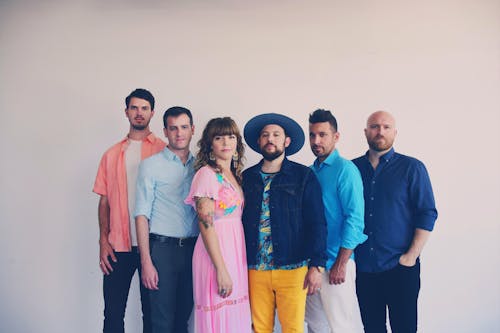 Genre-bending, legendary eight-piece roots orchestra with new 2020 LP
Dustbowl Revival
Jared & The Mill
Mississippi Studios
_
MOSTLY STANDING / LIMITED BALCONY SEATING
DOORS 7PM / SHOW 8PM
$17 ADV / $20 DOS
THIS EVENT IS 21+
VALID U.S. ID OR PASSPORT REQUIRED FOR ENTRY
________________________________________________________________________
Dustbowl Revival
Based out of Venice, California, the Dustbowl Revival are a large string and brass ensemble whose colorful combination of swing, bluegrass, jazz, and Americana have earned them a national following. The core group was formed in 2007 by bandleader and principal songwriter Zach Lupetin, who placed a craigslist ad searching for collaborators and instrumentalists. Known for their rowdy, energetic live shows, the group's lineup has swelled to as large as 15 members including various horns, mandolin, banjo, accordion, clarinet, and the dueling vocals of Lupetin and co-vocalist Liz Beebe. Their first LP, 2011's Holy Ghost Station, introduced their versatile sound on record, with an emphasis on old-timey rave-ups and early gospel and swing. A follow-up called Carry Me Home arrived in 2013 and followed a similar path as they continued to mix brass band music with old-time string styles and big group vocals. Their third album, 2015's With a Lampshade On, took a more direct approach, capturing the band live on-stage in San Francisco and L.A. While not necessarily a proper concert album, the record also featured the Dustbowl Revival live in the studio in New York and was the most honest presentation of their sound to date. Two years later, the group returned with its fourth album, an eponymous record produced by Grammy-winning producer Ted Hutt.
Jared & The Mill
We're 5 best friends from AZ. We love the desert, we love our city, its people, and we love each other. We love long drives, early mornings, late nights, dive bars, carne asada Tacos at 3 am, dirty jokes, and asking each other what we think about things. We're just as likely to get down on Simon & Garfunkel and Bob Dylan as we are Van Halen, and Kendrick Lamar. We love dogs, we love our van, we love playing together, and we love you – it's true. For the past few years, we've pretty much always been on tour, hitting the road on our own, with fellow bands, and have been lucky enough to open for a few heroes. From living rooms and basement clubs, to theaters and arenas, we just love playing shows, and being on the road.
Our fans are our greatest priority – we love them, we really do, and we do our best to insure them that we can't do this without them. Our message is one of acceptance, not in a circle sitting kum-baya bullshit way, but in a way of acknowledging that we all have shit we regret, we all have passions and opinions, and it's up to all of us to filter through our flaws and our regrets to find ourselves and love one another. Don't judge other people, and care about everybody, like EVERYBODY everybody. Our shows are rowdy, you'll break down your walls and realize you're not in this alone. We hope you come to a show, make our songs apart of your story, and live the best fucking life you can.
Cheers,
Jared & The Mill