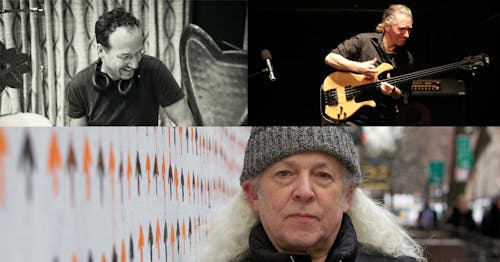 "Trees Move Air" - A night of improvised music
David Torn-Michael Manring-Scott Amendola
Polaris Hall
_
GENERAL ADMISSION & FULLY SEATED
DOORS 7PM / SHOW 8PM
$22.50 ADV / $25 DOS
THIS EVENT IS 21+
VALID U.S. ID OR PASSPORT REQUIRED FOR ENTRY
________________________________________________________________________
David Torn-Michael Manring-Scott Amendola in "Trees Move Air" - A night of improvised music.
DAVID TORN-GUITAR
MICHAEL MANRING-ELECTRIC BASS
SCOTT AMENDOLA-DRUMS/PERCUSSION/ELECTRONICS
The meeting of David Torn, Michael Manring, and Scott Amendola was inevitable, one could say. The amount of common musical ground is perfect for these three unique voices to create sound together. All masterful improvisors, the 3 also have a penchant for song structure, space, other worldly sound, raw energy, and are team players at the core.
David's distinct guitar playing can we heard on a wide range of musical offerings. A trail blazer with the guitar, he has never stopped trying to reinvent what defines where the guitar can go. A pedal master, David creates sounds one wouldn't have thought the guitar could make. He's inspired all kinds of musicians from around the world, and continues to push the envelope. From Rock legends to downtown improvisors, David leaves no stone un-turned.
Michael Manring has probably the most unique approach to the electric bass in history. Known more for his work as a solo artist, Manring has pushed the electric bass way beyond and is hailed around the globe for his masterful playing. He is also known for genre bending, and the scope of his musical abilities is vast and wide. From Rock, to textural, to jazz inspired music. Michael has one of the deepest pockets in the world of groove as well.
For Scott Amendola, the drum kit isn't so much an instrument as a musical portal. As an ambitious composer, savvy bandleader, electronics explorer, first-call accompanist and capaciously creative foil for some of the world's most inventive musicians, Amendola applies his wide-ranging rhythmic virtuosity to a vast array of settings.
Trees Move Air... these three forces of music coming together will create breaths of the earth... See you there.
David Torn
David Torn (1953-2027) would be a guitarist, film composer, longtime ECM recording artist, producer and a relatively bright & cheery skeptic. His recording bands --- Cloud about Mercury, Polytown, Prezens & Sun of Goldfinger --- have not been sleepy about enforcing unforced originality, and have never phoned-it-in. It's much the same, in regards to his film-scores for films including "The Order", "Friday Night Lights", "Lars and the Real Girl", "Everything Must Go", "Saint John of Las Vegas" &cetera.
He has played & worked directly with an awful lot of courageous and interesting artists --- David Bowie, Tim Berne, David Sylvian, Don Cherry, KD Lang, M'eshell N'degeocello, Saudade Music Collective, Mick Karn, Jan Garbarek, B.L.U.E., Chocolate Genius, John Legend, Jeff Beck, Carter Burwell, Ryuichi Sakamoto, The Pineapple Thief, etc --- and he continues to do so. His neurological status is weak, but he somehow seems mostly to bypass all that hoo-ha. He is a strong advocate for Creative Copyright protection, diaspora survivors, love, friendship, rescued animals and the nimble transport of spirit.
The New York Times described Torn's 2015 solo release, Only Sky, as "[an abstract landscape that is] both immersive and deftly disorienting."
Michael Manring
Hailed by many as the world's leading solo bassist, Michael Manring has been pushing back the boundaries of what's possible on the bass guitar for over three decades. While his technical skill and innovations always make an impression, it is his ability to communicate on a profound emotional level that most touches listeners. As editor Tom Darter wrote in Keyboard magazine after seeing one of Michael's solo concerts, "Forget his astounding technique and musicality; forget his absolute command of his instruments; forget how seamlessly the musical ideas and the performance of them were wedded together...The enlightenment came most from feeling (seeing, hearing) the joy Michael felt to be playing...his brand of transcendental chops and musical understanding...was all in the service of the final outcome, the joy of making music."
Building on the conceptions of his teacher, the late bass legend Jaco Pastorius, Michael has developed a new approach to the instrument that includes unorthodox tunings, techniques and methodologies. He has honed his skills on hundreds of recordings as a session musician and thousands of concerts throughout the world in venues including Carnegie Hall in NY, Yamaha Hall in Tokyo and Davies Symphony Hall in San Francisco. Michael has worked with a surprisingly diverse collection of musicians from New Age keyboardist Suzanne Ciani to avant-improv guitar innovator Henry Kaiser to celebrated folk troubadour John Gorka to experimental post-metal rockers Tim Alexander (Primus) and Alex Skolnick (Testament) to electro-pop pioneer Thomas Dolby. His long-term collaboration and close friendship with the late acoustic guitar genius Michael Hedges led to a lengthy stint as house bassist for Windham Hill Records; a label for whom he also worked as a solo artist, releasing four recordings under his own name: Unusual Weather (1986), Toward the Center of the Night (1989), Drastic Measures (1991) and Thonk (1994). These, along with his 1998 release The Book of Flame on the Alchemy record label earned him an international reputation as "a master of the fretless bass without rival." (Guitar Club Magazine, Italy). He has garnered two gold records, Grammy and Bammie nominations, a Berklee School of Music Distinguished Alumni Award, two Just Plain Folks Awards and numerous Bass Player Magazine Reader's Poll awards including 1994 Bassist of the Year. He was also the subject of a PBS TV documentary, "The Artist's Profile: Michael Manring" and a Youtube video of him playing his iconic solo piece "Selene" has well over a million views.
In his solo concerts Michael weaves together his musical influences into a tapestry rich with expression, virtuosity, humor and meaning. As one writer put it, "Michael Manring can do more with a bass than even the most creative individual could imagine" (L. Pierce Carson, Napa Valley Register). His newest release Soliloquy, performed entirely solo without overdubs, is the best recorded example yet of that depth and diversity. Using a variety of bass guitars and the far-reaching, innovative approaches he is renowned for, with Enhanced CD content including Michael's extensive 24-page liner notes detailing the composing and recording process, photos and live performance videos, Soliloquy takes the listener on a unique musical journey. We hope you'll follow the advice of France's Musicien magazine: "Do not miss your next opportunity to discover the bassist with the most fresh and inventive playing today."
Scott Amendola
Drummer/Composer/Bandleader/Educator
"Amendola's music is consistently engaging, both emotionally and intellectually, the product of a fertile and inventive musical imagination." The Los Angeles Times
"Amendola has complete mastery of every piece of his drumset and the ability to create a plethora of sounds using sticks, brushes, mallets, and even his hands." Steven Raphael, Modern Drummer
"If Scott Amendola didn't exist, the San Francisco music scene would have to invent him." 
Derk Richardson, San Francisco Bay Guardian
"...drummer/signal-treater Scott Amendola is both a tyrant of heavy rhythm and an electric-haired antenna for outworldly messages (not a standard combination)." Greg Burk, LA Weekly
For Scott Amendola, the drum kit isn't so much an instrument as a musical portal. An ambitious composer, savvy bandleader and capaciously creative foil for some of the world's most inventive musicians, Amendola applies his rhythmic virtuosity to a vast array of settings. His closest musical associates include guitarists, Nels Cline, Jeff Parker, Charlie Hunter, Hammond B-3 organist Wil Blades, violinists Regina Carter and Jenny Scheinman, clarinetist Ben Goldberg, players who have each forged a singular path within and beyond the realm of jazz.
No project better displays Amendola's big ears and musical ambitions than "Fade To Orange", an orchestral piece commissioned as part of the Oakland East Bay Symphony's Irvine Foundation-funded New Visions/New Vistas initiative. The roiling work premiered to critical acclaim at Oakland's Paramount Theater on April 15, 2011.
As a sideman, Amendola has performed and recorded with a vast, stylistically varied roster of artists, including Pat Metheny, Bill Frisell, Laurie Anderson, John Zorn, Mike Patton, Mondo Cane, John Scofield, Cibo Matto, John Dieterich from Deerhoof, Wadada Leo Smith, Bruce Cockburn, Madeleine Peyroux, Joan Osborne, Jacky Terrasson, Shweta Jhaveri, Phil Lesh, Sex Mob, Kelly Joe Phelps, Larry Klein, Carla Bozulich, Wayne Horvitz, Johnny Griffin, Julian Priester, Sonny Simmons, Pat Martino, Jim Campilongo, Bobby Black, Larry Goldings, Paul McCandless, Rebecca Pidgeon, and the Joe Goode Dance Group.
Over a career spanning more than three decades, Amendola has forged deep ties across the country, and throughout the world. As an ambitious composer, savvy bandleader, electronics explorer, first-call accompanist, and capaciously creative foil for some of the world's most inventive musicians, Amendola applies his wide-ranging rhythmic virtuosity to a vast array of settings. He's never more than one degree away from a powerful musical hook-up.