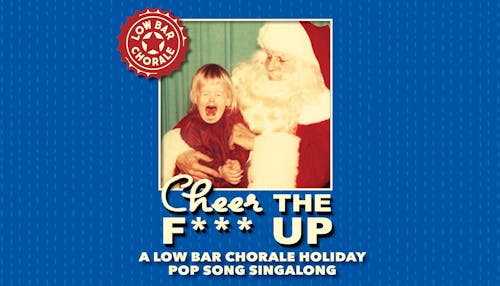 Low Bar Chorale Presents its annual Holiday-adjacent community sing-along
SOLD OUT: Cheer The F*** Up
Mississippi Studios
_
THURSDAY, 12/19/19 TICKETS AVAILABLE HERE
MOSTLY STANDING / LIMITED BALCONY SEATING
DOORS 6:30 PM / SHOW 7:30PM
$25ADV / $28 DOS
THIS EVENT IS 21+
VALID U.S. ID OR PASSPORT REQUIRED FOR ENTRY
________________________________________________________________________
Low Bar Chorale
The Low Bar Chorale Promises to Cheer You the F*** Up This Holiday Season!
December 18-19, 2019. Tired of mall carols, Rudolph and Nat King Cole? Portland's acclaimed Low Bar Chorale (formerly the OK Chorale PDX) wants to shake up your holiday routine with their fourth annual Cheer the F*** Up: A Holiday Pop Song Singalong. Guests include a Who's-Who of Portland musicians, including Casey Neill, Kasey Anderson, Kathryn Claire, Ruby Friedman, Arietta Ward and many other special guests including jazz artist LaRhonda Steele and Back Fence PDX winning storyteller Chris Williams (12/18) and Blind Pilot's Israel Nebeker and author/humorist Courtenay Hameister (12/19). Music director/co-founder Ben Landsverk (Wonderly) leads the backing band of musicians including AG Donnaloia, Allen Hunter, Ned Failing, Dave Jorgenson and Kyleen King, all of whom tour with bands like Eels, Brandi Carlile, Blind Pilot and more. Kate Sokoloff (co-founder, Live Wire! founder) MCs the evening. The holiday singalong includes alt/indie rock and pop carols (think Wham! and the Pogues) as well as "holiday-adjacent" songs like anything from the film, Love, Actually.
ABOUT THE LOW BAR CHORALE
The Low Bar Chorale (LBC) is a drop-in community pop chorus open to anyone ages 21+. For non-singers and singers alike. No rehearsals, no secret handshake, just fun in a relaxed, informal setting. Created in March, 2016 by producer Kate Sokoloff (Founder/Co-Creator, Live Wire!) and musician Ben Landsverk (Wonderly,) the drop-in happens twice a month at Show Bar in Revolution Hall. Covered artists include a range of pop, rock and alt/indie such as Radiohead, Daft Punk, Lady Gaga, and Lil Naz X/Billy Ray Cyrus. But what truly sets LBC apart is the chance to sing with musicians from bands like Blind Pilot, Brandi Carlile, the Eels, Pink Martini and Todd Rundgren's Utopia.
Past events include a David Bowie Tribute in OMSI's Planetarium; sold-out Jesus Christ Superstar Sing-alongs at Mississippi Studios and an all-ages Prince tribute to Purple Rain in Portland's Pioneer Courthouse Square (2,000 in attendance.). Low Bar also tours, turning crowds into bands, from Sisters, ORE to Hood River, to Sauvie Island.