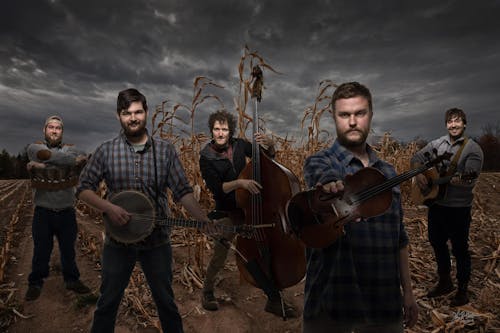 Adventurous bluegrass band from Wisconsin with energetic live show
SHOW CANCELED: Horseshoes And Hand Grenades
Quattlebaum
Polaris Hall
_
DOORS 7PM / SHOW 8PM
$16 ADV / $18 DOS
THIS EVENT IS 21+
VALID U.S. ID OR PASSPORT REQUIRED FOR ENTRY
________________________________________________________________________
Horseshoes And Hand Grenades
After seven years, three albums, innumerable sold out shows, and countless beers, bluegrass mavericks Horseshoes & Hand Grenades appropriately consider themselves a "family" on a wild, wonderful, and often whacky roller coaster. The bond between the quintet—David C. Lynch [harmonica, accordion, spoons, vocals], Collin Mettelka [fiddle, mandolin, vocals], Russell Pedersen [banjo, fiddle, vocals], Adam Greuel [guitar, dobro, vocals], and Samual Odin [bass]—fuels their creativity and chemistry on stage and in the studio.
"Sometimes, it feels like we're modern day cowboys on some kind of strange journey," Adam affirms with a laugh. "We're five friends who set out to do something we enjoy doing, meet interesting people, see old friends, and make some new buddies along the way. Because of that, everything happens organically."
That's been the case since these five musicians first met in Stevens Point, WI at college, joined forces, and hit the road post-graduation in 2013. They have ignited stages alongside everyone from Greensky Bluegrass, Yonder Mountain String Band, The Infamous Stringdusters, and Trampled By Turtles to Railroad Earth, Merle Haggard, and Marty Stuart in addition to appearances at festivals such as Delfest, High Sierra Music Festival, Blue Ox Music Festival, Northwest String Summit, John Hartford Memorial Festival, and many more. Their three albums—Another Round [2012], This Old Town [2013], and Middle Western [2015]—have spawned fan favorite hits, including "Get Down To It," "Stuck On Your Mind," and "Whiskey."
In many ways, everything set the stage for the 2018 offering, The Ode."It marks a point of growth," explains Adam. "We've got the bluegrass burner type tunes we're known for on there, but we're experimenting with other elements. Little pieces of everybody are encapsulated in this record. For the first time, we were really conscious of allowing our respective musical curiosities into the fold. Sam drops in a jazz and classical feel. Dave brings that Zydeco, Cajun, and old school blues vibe. Collin turns up with this kinda pop folk energy, and Russell gives us the old-timey banjo feel. For me, I'm trying to play out my singer-songwriter curiosities. There are five songwriters in the band, and we've gotten better at harnessing our individual creativity and bringing it to the collective."The boys found the perfect place to bottle those signature spirits. They retreated to Cannon Falls, MN in order to live and record at Pachyderm Studios — where Nirvana recorded In Utero — for just a week. Joined by Trampled By Turtles frontman Dave Simonett in the producer's chair, they tracked the eleven numbers that would comprise The Ode over the course of a marathon session.
"Pachyderm is in the middle of nowhere," he elaborates. "We're all outdoorsy people, so the setting was super comfortable. It contributed to the laidback approach. We had this awesome chemistry with Dave. It was by far the easiest recording project we've done. The whole experience was super positive and uplifting."
That feeling courses through the upbeat bluegrass gallop of the first single and title track, "The Ode." The ebullient and enigmatic anthem serves as something of a mantra for the group, "Sing the ode my friend!"
Elsewhere on the record, bluesy piano resounds through "Eat the Cake," while rustic banjo reverberates during the anthemic "Foggy Halo." A clever outlier, "Millennial Girl" veers towards self-aware pop with its sharp lyrics. Meanwhile, "Stay Awhile" redefines the breakup song.
"I was thinking about how you can split up with somebody for various reasons, but still be in love," he elaborates. "You split up for each other—not because of each other. It's about the impermanence of relationships and the permanence of love."Ultimately, the Horseshoes & Hand Grenades family grows stronger by the day. The Ode is proof.
"The best part of this has been building a community," Adam leaves off. "In this day and age, it's wise to look for things that bring people together rather than separate them. We're creating an extended family to get through these times together. That's the 'Horseshoe Crew.' Everything happens because of that bond."
Quattlebaum
Austin Quattlebaum brings more to the table than just music. With his warm infectious smile, he brings people together, encouraging comradeship and building community. Though it's undeniable that he loves the music and he's a hell of a banjo picker to boot. Offering rowdy singer/songwriter solo shows, he blends gritty originals and tasteful covers, weaving together 3 finger banjo, clawhammer, and flat-picking guitar songs into his sets. Sung with a bit of gravel in his throat, his sultry tunes are sure to keep the crowd's attention.
Born and raised in Savannah, GA, Austin Quattlebaum's sound is tinged with southern low country marshland blues. After living in the mountains of southern Appalachia for several years his sound became steeped in traditional bluegrass and old-time music. After 8 years of wilderness river guiding and living in a van as a touring musician, it's grown it into a sound all it's own.
Quattlebaum's adventures landed him in Portland, OR nearly 2 years ago where he quickly dove into the local music scene and founded the up and coming bluegrass band, Crow and the Canyon. (C.&.t.C. hit the Portland scene with a bang, achieving many accolades and notoriety in their short history.) Quattlebaum can also be seen touring the country with the 8 headed snarling folk monster band, The Sam Chase and the Untraditional, hailing from San Francisco. They've been making big strides over the last few years making a name for themselves at festivals such as Outside Lands, Hardly Strictly Bluegrass, and High Sierra. Whether taking the stage with one of his projects or all on his own, Quattlebaum isn't shy and always brings a good time.