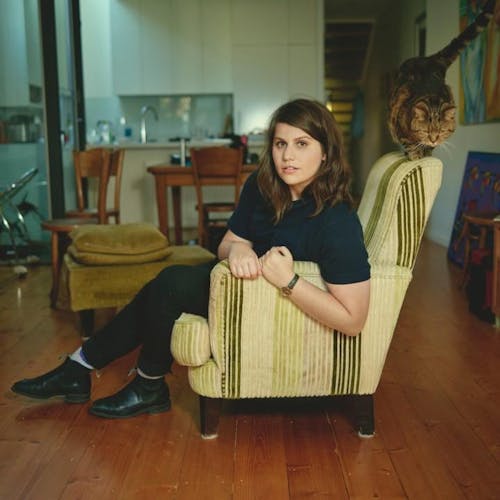 Melbourne pop-rock songwriter with new 2020 LP, 'Sucker For Punishment'
SHOW CANCELED: Alex Lahey
Liv Slingerland
Mississippi Studios
_
MOSTLY STANDING / LIMITED BALCONY SEATING
DOORS 7PM / SHOW 8PM
$14 ADV / $16 DOS
THIS EVENT IS 21+
VALID U.S. ID OR PASSPORT REQUIRED FOR ENTRY
________________________________________________________________________
Alex Lahey
On her sophomore LP, The Best of Luck Club, 26-year-old Alex Lahey navigates the pangs of generational ennui with the pint half-full and a spot cleared on the bar stool next to her. Self-doubt, burn out, break-ups, mental health, moving in with her girlfriend, vibrators: The Best of Luck Club showcases the universal language of Lahey's sharp songwriting, her propensity for taking the minute details of the personal and flipping it public through anthemic pop-punk.
Lahey's 2017 debut I Love You Like a Brother encases Lahey's knack for writing a killer hook and her acute sense of humor delivered via a slacker-rock package -- and, in a way, The Best of Luck Club picks up where that record left off but sprinting forward. Lahey dives headfirst into a broader spectrum of both emotion and sound through polished, arena pop-punk in the vein of Paramore with the introspective sheen of Alvvays or Tegan & Sara. Here, Lahey documents "the highest highs and the lowest lows" of her life to date.
The first inklings of The Best of Luck Club came together on a shitty guitar while Lahey spent the bulk of her time on the road. The break-out success of I Love You Like a Brother took her beyond the adoration of Australia to her first taste of global touring; festival slots at the likes of Lollapalooza, Bonnaroo, and Osheaga; and her American TV debut on Late Night with Seth Meyers. Amidst the frenzy, Lahey found the time to tinker with her thoughts, eventually landing in Nashville for intensive songwriting sessions. Lahey would lock herself in a room for 12-hour days and ended up churning out more than half the songs for the record. Most importantly, Lahey found The Best of Luck Club thesis while she was there -- which explains the familiarity and relatability through Lahey's new LP.
"When I was writing all the stuff in Nashville I was really inspired by the dive bar scene there and the idea that at these dive bars there's no pretentious energy," she explains. "Whether you've had the best day of your life or the worst day of your life, you can just sit up at the bar and turn to the person next to you - who has no idea who you are - and have a chat. And the response that you generally get at the end of the conversation is, 'Best of luck,' so The Best of Luck Club is that place."
For recording, Lahey returned home to Melbourne, Australia and set up shop for a month at Sing Sing South. Lahey co-produced the album alongside acclaimed engineer and producer Catherine Marks (Local Natives, Wolf Alice, Manchester Orchestra), and plays nearly everything on the record save for drums. The blare of saxophone across several tracks marks Lahey's first return to the instrument in years, which she said began as a tongue-in cheek decision but more than anything pays homage to her past. Lahey credits Marks for improving her attention to detail, self-confidence, and guiding the process through with a sense of humor.
Barnstorming album opener "I Don't Get Invited to Parties Anymore" recounts Lahey struggling with the often isolating pressures of adulthood, explaining, "It's funny to think that there are people out there who are sort of putting their social life on ice in order to get their professional selves together, and as a result they're not getting invited to parties anymore, and it sucks."
The relatable "Don't Be So Hard on Yourself" grapples with the overwhelming feeling of burn-out as Lahey reassures it's okay to have bad days, while the electrified "Misery Guts" hammers at the other end of the emotional spectrum, marking the first time Lahey has written a song in the midst of anger. "I Need to Move On," which Lahey says began as a musical ode to The Cure in its demo form, is guided back to pop sheen by Marks' deft hand, chronicling the struggle of getting over a break-up before you're ready.
"When we were making the record, Catherine and I would refer to different songs as playing dress-ups," Lahey recalls, explaining all the different roles she deftly inhabits on The Best of Luck Club. "I really think that if you saw a montage of a person writing and making this record - and the places where it all happened - it kind of does look like playing dress-ups, in a way."
"These songs are almost written for each patron of a dive bar," Lahey says, "because they're so varied in the experiences that are being presented and it's almost as if each one of the songs is someone's day. I feel writing these songs is me going into The Best of Luck Club and reflecting and coming out with each individual song."
Liv Slingerland
Liv Slingerland is an alternative rock singer-songwriter and multi-instrumentalist based in Los Angeles, CA. In August 2017, Liv completed a self-release of her band's first three singles, "Shouldn't Bother," "Hold On To," and "Come Back to Me," each co-produced by Scott Heiner. Slingerland's music is influenced by a mix of catchy, guitar-driven rock bands including Tom Petty and The Heartbreakers, Chrissie Hynde and The Pretenders, Joan Jett and The Blackhearts, and The Killers and songwriters ranging from Joni Mitchell and Jackson Browne to Elliott Smith and Lucy Dacus. Over the past two years, Liv has been playing live with her band at Los Angeles venues such as the Hi Hat, Bootleg Theater, and The Echo, in addition to local festivals including Chinatown Summer Nights and Echo Park Rising, named the Best Music Festival by LA Weekly (2016). January 2019 marks the release of Slingerland's EP, Crush Me, a follow-up to her first three singles, recorded with long time collaborators Genna Projansky on bass and India Pascucci on drums in the hills of Laurel Canyon and North Hollywood. Liv continues to write and collaborate with her band and various producers and songwriters exploring her affinity for rock and pop craftsmanship in her work.