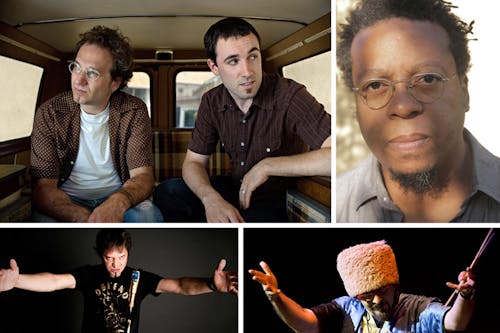 A superb collection of jazz and funk superstars
Amendola Vs. Blades with Cyro Baptista, Skerik & Jeff Parker
_
GENERAL ADMISSION & FULLY SEATED
DOORS 6PM / SHOW 6:30PM
$22 ADV / $25 DOS
THIS EVENT IS 21+
VALID U.S. ID OR PASSPORT REQUIRED FOR ENTRY
________________________________________________________________________
Amendola VS Blades
Wil Blades and Scott Amendola conjure various sonic deities though only a duo. For the past 10 years, their live shows have been generating a buzz around the San Francisco Bay Area. The two got their start as a group when Scott had the vision of performing Duke Ellington's "Far East Suite" in duo with Wil. While quite a daunting task translating a suite (originally written for a big band) into duo, the Hammond Organ had previously been used in the 1940's and 1950's to emulate the sound of big bands. With Wil's knowledge of this tradition and Scott's desire to push boundaries, they were able to pull it off in an explorative, yet cohesive manner. The duo continues to perform pieces from the Ellington suite, while also developing their original material. Their live performances are fun and playful, yet deeply musical. They can cover everything from Avant Garde to Funk, Bebop to Rock, sometimes within one song. In June 2015, at Duende in Oakland, CA, they set up shop for two nights and recorded in front of a live audience. The resulting release, entitled "Greatest Hits", is due in September 2016 and will feature versions of both Scott and Wil's original compositions.
Wil Blades
Blades, a native Chicagoan, has become the San Francisco Bay Area's first call organist and is rapidly gaining momentum throughout the world. Since 2006, he has been named in the Downbeat critics poll every year under "Rising Star" for organ. Wil has kept the traditional sounds of Jimmy Smith, Larry Young, and "Groove" Holmes alive, while creating a more personal, modern sound. Wil has performed and recorded with John Lee Hooker, Dr. Lonnie Smith, Melvin Sparks, Idris Muhammad, Joe Louis Walker, Nicholas Payton, Donald Harrison, Karl Denson, Will Bernard, Charlie Hunter, Stanton Moore, and many others.
Scott Amendola
An organizer by nature, Jersey native Scott Amendola has become a creative nexus for a community of musicians stretching from Los Angeles and Seattle to Chicago and New York. Amendola's inspiration stems from such stylistic influences as African music, jazz, blues, spirituals, rock, and the avant garde. Scott has never been satisfied with just being a masterful drummer, he has spent his career pushing music in new directions. Scott has toured, recorded, or performed with Bill Frisell, Dave Liebman, John Zorn, Wadada Leo Smith, Jacky Terrasson, Larry Goldings, Jeff Parker, Madeleine Peyroux, Sex Mob, Wayne Horvitz, Johnny Griffin, ROVA Saxophone Quartet, Pat Martino, Nels Cline, Peter Apfelbaum, Jim Campilongo, Ben Goldberg, Mark Turner, Michael Franti, Phil Lesh and others, and has toured extensively throughout Europe, North America, and Australia.
"Their live performances are fun and playful, yet deeply musical." - SFGate
"The chemistry between Amendola and Blades have nurtured is no illusion: each anticipates the other's movements with uncanny precision and clearly both love to dig into a groove, but it's not just a matter of repetition, but progressively intricate interaction" -AllAbout Jazz
"Freakishly funky and soul satisfying, this dynamic duo push the limits on their Greatest Hits, while having too much fun doing it." - SomethingElse Reviews
"These guys are master musicians, and they put everything on display...Two people shouldn't be allowed to have this much fun." - JazzTimes
"The music spirals and soars, the musical life-force is palpable, and the energy is non-stop." - Audiophile Audition
"The Berkeley duo has been honing a repertoire of groovelicious jazz for more than a decade, and they throw down the funk with fervor on a project that clocks in at the old-school LP length of 39 minutes, distilling some of their leanest, meanest, punchiest pieces." - #1 Record of the Year, San Joe Mercury News
Cyro Baptista
Percussionist & composer, native from Brazil.
Skerik
Skerik (born Eric Walton) is an American saxophonist from Seattle, Washington. Performing on the tenor and baritone saxophone, often with electronics and loops, Skerik is a pioneer in a playing style that has been dubbed saxophonics. He is a founding member of Critters Buggin, Garage a Trois and Skerik's Syncopated Taint Septet. He is also an original member of both Les Claypool's Fancy Band and Frog Brigade and has toured with and played with numerous others in a variety of genres.
Jeff Parker
American jazz, and post-rock guitarist. Born in Hampton, Virginia, he studied at the Berklee College of Music, before moving to Chicago in 1991, where he became a member of the AACM. Now living in Los Angeles, since 2013.