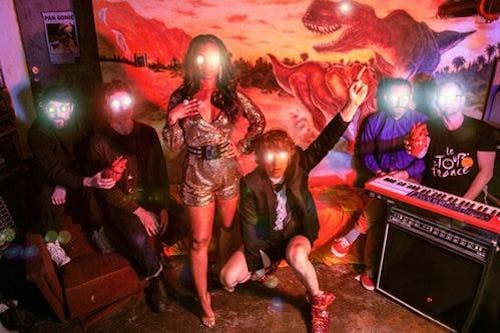 Shape-shifting, inventive dance-rock icons with two-decade history
!!! (CHK CHK CHK)
Chanti Darling
Mississippi Studios
Chanti Darling
MOSTLY STANDING / LIMITED BALCONY SEATING
DOORS 8PM / SHOW 9PM
$16 ADV / $18 DOS
THIS EVENT IS 21+
VALID U.S. ID OR PASSPORT REQUIRED FOR ENTRY
________________________________________________________________________
!!! (CHK CHK CHK)
!!! - Wallop
Doesn't it seem like everyone's freaking out lately? !!! know the feeling well. The NYC dance-punk lifers have been chronicling the perpetual meltdown that is American society for nearly 20 years now, from the clattering full-band thrust of their instantly iconic 2003 single "Me and Giuliani Down by the Schoolyard (A True Story)" to the dark disco of 2017's wonderfully eclectic Shake the Shudder.
Their eighth full-length, Wallop, follows in the band's grand tradition of plugging straight into our collective nervous system and sending funky, rubbery shock waves through the body politic. If you've found yourself rubbing your temples while contemplating the collapse of everything around us? Well, !!! are bringing the soundtrack to your next nervous breakdown.
Like an apocalyptic jukebox, Wallop is jam-packed with various sounds and styles from dance music's rich history—from the pie-eyed psychedelia of Madchester-era English dance-rock to tunnel-vision techno and the flashy, bomb-dropping sound of UK grime. The candy-coated sounds of '90s rave loom large in Wallop's playful darkness, a callback to another era when everything felt like it was just about ready to fall apart. Diving into '90s retro nostalgia is good for us," frontman Nic Offer explains while discussing the sonic rediscovery at the beating heart of Wallop. "I know all the '80s stuff already, so it's like, 'What did happen in the '90s?' Because in the '90s, we were just listening to James Brown."
Wallop was recorded over the past year in Offer's Brooklyn apartment—a first for the band, as !!!'s latest was rife with experimentation throughout the creative gestation: "Our process was to get loose and get into uncharted territory," he puts it succinctly. This meant messing around with gear they didn't quite understand, conjuring new sounds and bringing in familiar friends to contribute vocals—including Liars frontman Angus Andrew, Maria Uzor of British dance aesthetes Sink Ya Teeth, and Glasser's synth-pop wizard Cameron Mesirow, who all join Offer and !!! co-vocalist Meah Pace on this barn-burning party of a record.
"We were sitting on these instrumentals that we liked, so we started sending them around to random people," Offer states while discussing the collaborative process streaked across Wallop. "We overwrite and overrecord, and send them out to our friends to vote. We don't know what we're making until it's done. This record could've been completely dark or completely pop."
"We're not the kind of band that sits down and says, 'Let's make a record now,'" producer and multi-instrumentalist Rafael Cohen continues. "We just keep going, which is good because it leads to less of a narrative for each album." With an array of producers lending a hand—including Cole M.G.N. (Ariel Pink's Haunted Graffiti, Julia Holter), Graham Walsh (Holy Fuck), and longtime collaborator Patrick Ford—Wallop was eventually stitched together to reflect the colorful, body-moving tapestry that its end result represents.
Work on Wallop took place in understandably different sociopolitical circumstances than what surrounded Shake the Shudder—but addressing those circumstances head-on was initially harder than Offer and Cohen thought. "Every political song we wrote kind of sucked," the former admits, while explaining that the wide-eyed societal paranoia embedded within the record was naturally occuring. "When we stepped away from politics, it seeped its way back into the music."
Indeed, Wallop chronicles these strange times through !!!'s personal lens, capturing the mere act of existing amidst so many shifting paradigms; the skipping IDM of "Domino" zooms in on the conflicting emotions that come with experiencing gentrification first-hand, while
"UR Paranoid" throbs with the type of intensity reserved for existential spiraling and late-night k-holes alike—an urgency that also speaks to !!!'s admiration for club music. "We're always trying to make pure club stuff—that's where we get our sonics," Cohen states, while Offer elaborates, "We're very much classic songwriters, but the music that turns it on is club music. It's always moving, and it's a good well for us."
Meanwhile, "Off the Grid" ripples and pulses in a way not unlike XTRMNTR-era Primal Scream, "Slow Motion" dives headlong into the ecstatic energy of 1990s UK trip-hop and beat-driven rock, "This Is the Door" radiates crisp and effervescent disco, and "Couldn't Have Known" is pure urban clatter topped off by Cohen's soothed-out vocals. The splashy beat of "Serbia Drums" in particular comes from a surprising source: an iPhone recording that drummer Chris Egan captured while the band was touring in Serbia. "Chris is from D.C. and so am I, and that groove is so go-go," Cohen marvels on the song's propulsive sound.
Overall, Wallop is a testament not only to the rocky, worldly times it reflects, but !!!'s artistic lifeblood—a constantly-creating ethos that's kept the band going for so long and enables them to constantly innovate their sound. "We just work really hard and try to make the best records we can," Offer proclaims. "We have a strict policy of challenging ourselves—'What haven't we done?'" And if that sense of self-discovery resulted in Wallop's jam-packed, kaleidoscope world of sound, let's hope !!! never stop challenging themselves.
Larry Fitzmaurice
June 2019
Chanti Darling
Chanticleer Trü would like you to know that "RNB ain't no joke." As frontman of Portland, OR retrofuturist electro-soul adepts Chanti Darling, Trü drinks deeply from the sacred founts of Disco, Boogie Funk, and the dizzying universe of house music. Teasing out the essential filaments, Trü weaves a sound that nods to the past as it blasts into the future; urgent, irresistible, and absolutely of the moment.
Raised on a steady diet of jazz, soul, and his mom's Boogie Funk collection (he started leading vocal groups at age ten), multi-instrumentalist Trü studied opera, musical theater, and composition. Naturally drawn to the primal energy of the club scene, Trü first made a name for himself as a performer, promoter, and DJ. "I was always drawn to the power of music to make people dance" says Trü. "There's some innate, ritualistic pre-human thing within us, engrained on our DNA. The metaphysical combination of melodies, rhythms, lyrics and ideas; it's what our very consciousness is made of. It is creation itself."
To aid him on his pilgrimage, spreading the gospel of RNB, Trü turned to fellow sonic wizards Natasha Kmeto and Damon Boucher. "Natasha and I have lots of conversations about unsung heroes of popular music" explains Trü "RNB musicians that don't get the shine that they deserve because they are women, or black, or queer. Then a blonde-haired blue-eyed dude from someplace trendy literally "borrows" from this genre and all the sudden RNB is cool. No. It's never not been cool."
Written over three years and recorded in Portland, Oregon at Zip Zap and Eyrst studios, the record features numerous collaborations with producer Boucher and Kmeto. While some of the songs were written in the studio, much of the music was refined during the bands already legendary live shows. No doubt dazzling choreographers and dancers The Step Touches – the only constant in the Chanti Darling lineup apart from Trü – have helped build the legend with their epic performances.
Early in the project, Trü put together a band that included Hannah Blilie of The Gossip and Rebecca Cole of Wild Flag. "It's amazing to be able to develop ideas in a live setting," Trü tells us. "A lot of these songs started from live instrumentation and were then translated through digital production." In fact, the bulk of the music – apart from the drum programming – was tracked live.
Aesthetically, Chanti Darling melds 80's retro-futurist iconography with a late-night summertime vibe; THE RNB is a place of neon lights and palm fronds, washed in the pastels of dusk and dawn. Together, Chanti Darling is undeniable and immersive. This has not gone unnoticed in the Pacific Northwest – and beyond. Voted Portland's "Best New Band" in a poll held by Willamette Week, the band has already performed at the Pickathon, Treefort, and What The Festival events, played a host of shows with Hercules & Love Affair, been featured in Vice and Dope, and shared the stage with NAO as part of Red Bull Sound Select
This record is built upon a sort of string theory of RNB sounds" says Trü. "THE RNB is a type of place that exists in another plane. It's another dimension. A place beyond dreaming that is the totality of your highest vibration. All the rest though… is just mundane."
One of the timeless, primary allures of music has been the ability to lose oneself within it, and with RNB Vol.1 Chanti Darling has crafted a sonic totem, imbued with the power to transport the listener to a place of hip-shaking, sweaty freedom. "I wanted to create a record that people could be absorbed by. Something to hold them and envelop them. The world… the world itself has gotten so dark. That darkness bleeds over into everything that we create. Which can be amazing. But, I felt my call was different. I wanted to create a shift to positivity and light." Blessed through a life steeped in rhythm with the mystic ability to tap into and channel the primal genomic funk, Chanticleer Trü has crafted a shimmering antidote to that darkness. RNB Vol.1 is a rapturous, profoundly engaging (and much needed) mega dose of humanities first antidepressant.